The Help Bolivia Foundation (HBF) recognizes the immense needs of the Bolivian people living in extreme poverty, particularly the children. Help Bolivia is focusing its efforts on alleviating this poverty by providing programs that support the nutritional and educational needs of underprivileged children, as well as training programs for underprivileged women and youth.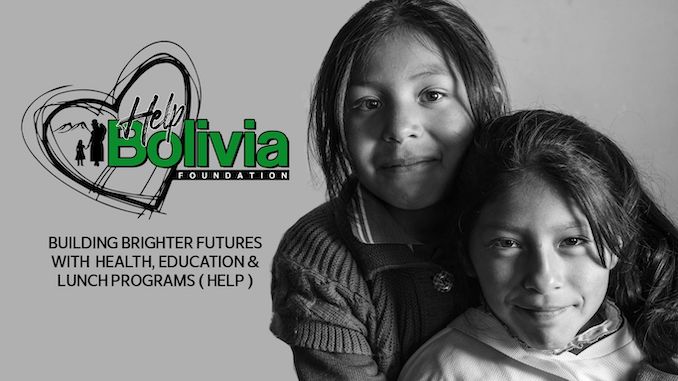 Describe your charity in a few sentences
Help Bolivia Foundation (HBF) delivers educational and nutritional support and mental health and psychosocial support to indigenous families in the city of El Alto, Bolivia. Operating from the Tahuantinsuyo Community Centre, HBF also provides gender-based and sexual violence training to help end the cycle of violence and sexual abuse in the community. HBF is a registered Canadian charity based in Airdrie, Alberta.
What problem does it aim to solve?
The families helped by HBF have migrated to El Alto from rural areas in search of better living conditions. Unfortunately, they end up living in extreme poverty due to a lack of education, with most being single-parent households. Many of these families struggle to survive on less than $90 Canadian a month.
Without adequate nutrition and educational support, these children are at risk of dropping out of school, perpetuating the cycle of poverty. Working alongside the Bolivian non-profit Sariry Foundation, HBF aims to overcome these challenges by providing nutrition, education support and mental health support to the children, and skills training to mothers and youth.
When did you start it/ What made you want to get involved?
Help Bolivia Foundation was established in May 2018, following a trip to Bolivia where the founders, Matt and Lydia Hill, realized there was a desperate need for support for children in El Alto. Children were falling through the cracks at school, and most were not learning properly due to hunger. Single mothers were struggling to raise children while living in extreme poverty, with the cycle of poverty being perpetuated when children dropped out of school to begin unskilled work.
What was the situation like when you started?
In 2018, when Matt and Lydia Hill visited the Tahuantinsuyo Community Centre, only two overworked educators were tutoring the children. There was no meal program; the children were struggling to learn on empty stomachs. Half the children enrolled at the Centre were not attending, putting their education at further risk. Many were malnourished, surviving on only one meal a day.
HBF's first step in 2018 was to create a nutritional lunch program. A cook was hired, the kitchen was renovated, tables and benches were bought, nutritionists were hired to develop a healthy menu, and the kitchen was stocked with cooking and eating utensils. Within a week of the start-up of the nutrition program, attendance grew by a whopping 30%!
How has it changed since?
HBF now has three full-time educators, a part-time psychologist, and a cook to work at the Centre. HBF currently supports 74 children from 38 impoverished families.
A new skills-training program is set to begin this summer to teach mothers how to sew. In addition, a computer lab and internet connection have been set up at the Centre to teach digital literacy to the children and give them access to online classes. Thanks to sponsorship through Helping Hands – La Paz, the first graduate from our program, is attending university!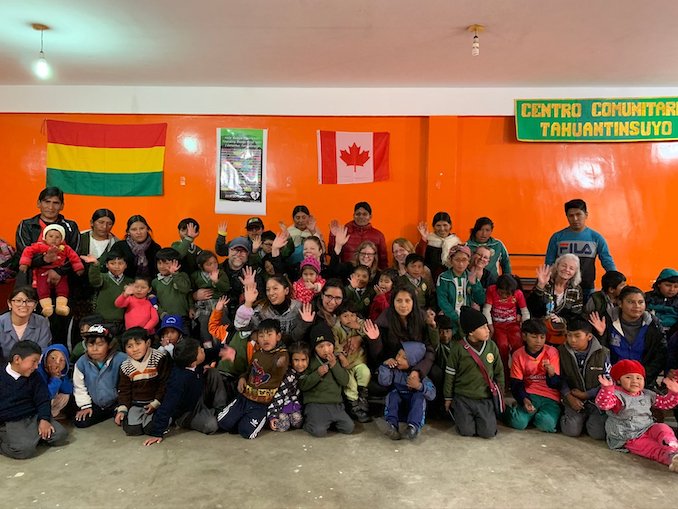 What more needs to be done?
The families of this community still need help. Skills-training programs will help under-educated parents find better employment, which helps raise them out of extreme poverty. These families face uncertain futures due to the COVID-19 pandemic and subsequent economic crisis. HBF aims to ensure these families not only survive but thrive. As HBF grows, we plan to expand these support programs to more communities in need in Bolivia.
How can our readers help?
There are many ways to make a difference! You can visit our website at helpbolivia.org to subscribe to our newsletters, follow us on social media, become a volunteer, or donate!
Because of COVID, more families need your help. With your donation, you will feed hungry children, help them learn, and provide skills training to their parents. With your support, more struggling and underprivileged families will benefit from these programs.
We have an urgent need for more monthly donors. Safe and secure, monthly donations provide stable income to ensure that, month after month, services and programs can be provided. For as little as $5 a month, you can provide hot, nutritious meals to a hungry child. So, please, join our community of care for these kids!
Do you have any events coming up?
Our First Annual Fitness Challenge aims to raise much-needed funds for the nutrition and education support programs this August. In addition, the Art4Bolivia fundraiser will showcase art from talented artists: all proceeds will go to the children in El Alto! And in August, Help Bolivia Foundation merchandise (mugs, caps, t-shirts, and hoodies) will be available on our website.
Finally, as COVID numbers drop in Canada, a Pub Night event will take place in November, including a silent auction and balloon prizes; that info will be posted on our website and social media later this summer.
Where can we follow you?
You can follow us on;
Website https://helpbolivia.org/
Instagram https://www.instagram.com/helpbolivia/
Facebook https://www.facebook.com/helpboliviafoundation
Twitter https://twitter.com/help_bolivia
and LinkedIn! https://www.linkedin.com/company/help-bolivia-foundation
Pay it Forward – what is an awesome local charity that you love?
Co-founder Lydia Hill loves the Haitian Education Society, which also supports underprivileged children with nutrition and education. Haiti and Bolivia are the two most impoverished countries in the Americas: these children desperately need our help!