Guitarist Holly Blazina creates an immersive world of beauty and sound that draws in music lovers and Flamenco aficionados alike. The notes emanating from her instrument disarm unsuspecting listeners as they are ushered into an ethereal experience that is exotic, evocative, buoyant and deeply nourishing.
As her music saturates a room, an event becomes an occasion, and a live concert blossoms into an exhilarating journey. Holly's music is a catalyst for true communication, weaving its magic amongst those present to incite deeper connection, increased creativity and an atmosphere of genuine collaboration.
When first exposed to Flamenco's passionate, soulful melodies and driving rhythms, Holly knew she had found her home musically. This quickly led to a lifelong commitment to the art form. She has had the good fortune of studying intensively with renowned artists both in Spain and North America. Having completed a Bachelor of Music degree in classical guitar performance in 1994, Holly loves to share her knowledge with aspiring guitarists as well as professional musicians, offering private lessons, accompaniment classes, workshops and online courses. Her original compositions have recently won awards from the Canada Council for the Arts and FACTOR.
Holly has also taken two extensive Yoga and Ayurveda trainings totalling over 1000 hours. Since then, she has combined her seemingly unrelated passions of Flamenco and Yoga to create A Musical Journey Through the Chakras. In this extraordinary offering, Holly performs her original music while guiding participants through rhythmic connection, profound silence and into deep meditation.
Holly produces her own public and in-home concerts, and has built a sizeable following of repeat private event clients. Her debut recording, Transcendencia, was released in October, 2017.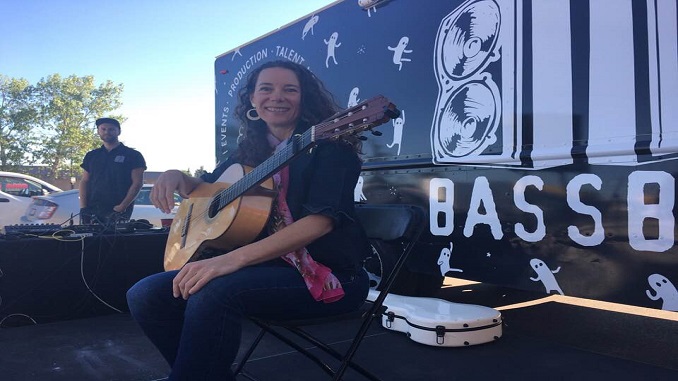 Name: Holly Blazina
Genre: Flamenco
# of Albums: 1
Latest Release: Transcendencia, Oct 2017
Favourite Local Restaurant: Namskar
Favourite band as a teenager:
Paco de Lucia
Favourite band now:
Paco de Lucia
Guilty Pleasure Song:
Stan Kolev's Universe One
Live Show Ritual:
Alternate nostril breathing
Favourite local artist: Andrea Petrity
Nose Hill or Fish Creek? Both
EP or LP? LP
Early bird or night owl? Early bird
Road or studio? Studio
Where can we follow you?