Enjoy the flavors of take-out from home with this week's recipe from Thai Manna. This Papaya Salad is spicy, sweet, and tangy and pairs perfectly with Thai Manna's Green Thai Curry Kit and is ready in 20 minutes!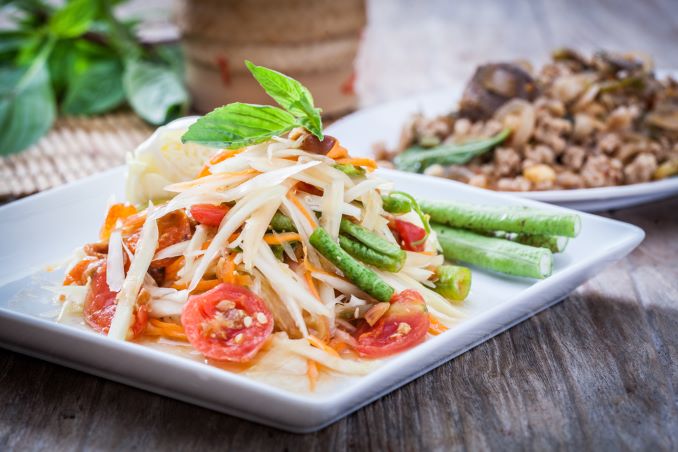 Green Papaya Salad
Prep time: 20 Minutes
Ingredients:
– 3 cups green papaya and carrot
– 6 cloves garlic, crushed
– 2-3 chilies
– 3 tbs fish sauce
– 1 tbs palm sugar
– 2 tbs lemon juice
– 2 tbs roasted peanuts
– 1 cup cherry tomatoes
– 1/3 cup green beans
– ¼ lemon cut into small cubes
Directions:
1. Whisk fish sauce, palm sugar, lemon juice, finely chopped thai chilies and garlic. Set aside.The Palm sugar may take some time to dissolve. Return to your dressing to stir and crush as needed.
2. Cook beans in salted water for about 5 minutes until tender but still crisp. Cut into 2-inch pieces. Set aside.
3. Peel your green papaya and carrots then, using a julienne peeler or cheese grater, shred 2 cups of papaya and 1 cup of carrot.
4. Place shredded pieces in a large bowl and gently squeeze and crush papaya/carrot mix by hand.
5. Cut tomatoes into halves and add to papaya mix along with cubed lemon and prepped green beans. Add dressing and gently crush your ingredients while tossing.
6. Garnish with peanuts
7: Serve with: Thai sticky rice, grilled chicken or Thai Manna Laap kit.