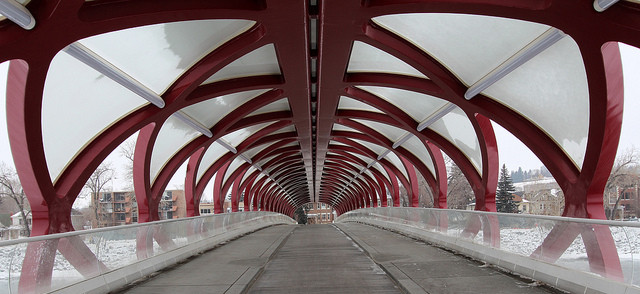 As a local, sometimes it's easy to let parts of your city go unnoticed. Whether your eyes are always glued to the ground as you quickly walk through downtown, or if you never stray from the same path on your daily commute home, you might never realize some of the neat things in the city you're missing. These tours won't take you through the traditional tourist traps, but will instead show you a new side of the city you might never have otherwise discovered.
The Home to Hive tours are intended to keep the conversation buzzing about beekeeping. Apiaries and Bees for Communities' (A.B.C.) has a mission to spread the word to Calgarians about responsible urban beekeeping. Their Home to Hive bicycle tours take you from backyard beehive to backyard beehive in Calgary's beltline. To sign up for an urban beekeeping tour, visit A.B.C.'s website at www.backyardbees.ca.
During the summer, the City of Calgary hosts free guided walking tours of a few of the city's historic cemeteries. All of the tours take place on alternating weekend days at 2 p.m., and continue until the end of October. The city's website notes that "the cemeteries are like museums." This is the place to go if you'd like to learn more about Calgary's earliest settlers or notable citizens and their contributions to Calgary. Visit the City of Calgary's website for more information.
If you'd like to learn more about some of the city's notable works of public art, but prefer to move at your own pace rather than follow a guided group, the City of Calgary's Public Art program has a number of options for you. They have prepared a 40-50 minute guided tour, that you can explore in a variety of ways. If you visit their site, you have the option of downloading an app, listening to a podcast, printing out (or using a pdf) of their tour guide brochure, or calling (403) 268-1616 to listen to a prerecorded guide. The tour takes you through some of the more notable pieces in the Civic Art Collection, and is a great introduction for those unfamiliar with public art in Calgary.
If you enjoyed the cemetery tours, but were looking for something a bit less historical and a little bit more spooky, try one of Calgary's ghost tours. These tours are lead by a caped figure carrying a lantern, and only take place at night, so only choose one of these walks if you're up for a scary evening. The tours run May through November. As well as offering ghost tours of some of Calgary's oldest neighbourhoods, the company also offers pub tours, if you'd like some "spirits" with your spirits. For more information, or to book a tour, visit their website at www.calgaryghosttours.com.
If simply reading about walking and biking around the city has made you tired and hungry, this might be the tour for you. Calgary Food Tours offers a chef guided tour of the Calgary Farmer's Market. You'll have the opportunity to meet the farmers and ranchers behind the food, and sample many of their delicious products. You'll come away from the experience with a full stomach, some recipes, and a shopping bag of fresh and local goodies. To sign up, or learn about the other tours offered by Calgary Food Tours Inc., visit their website.