We all love a good football game. We love the game more, with some delicious snacks to enjoy during the game. There are some easy snacks that you can prepare before the game starts. You can't be sure that the Europa League predictions will be spot on, but you can ensure that the snacks during the games will be perfect.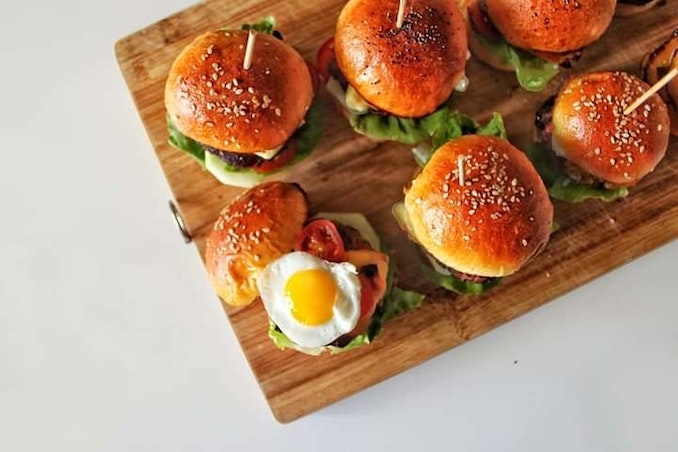 If you're tired of the usual pretzels, crisps, and popcorn, then you should look closely at our game snack ideas. Invite all your friends to watch the game and surprise them with tantalizing game snacks!
Gourmet Burger Sliders
These are simple to prepare and go down very well with all footie fans. Get some lean mince and spice it up with salt, pepper, garlic, and chilli spice. Add a bit of parsley for extra taste. Make small patties and fry them lightly until golden brown. Cut some tomatoes, lettuce, onions, cheese, and cucumber. Layer all your ingredients on the small burger roll and add a sauce of your choice.
Mushroom Caps
Rinse-off some mushrooms and remove their stems. Stuff the mushrooms with feta cheese. You can mix the feta with other ingredients like parsley for extra taste. Prepare a bowl with one beaten egg and another with bread crumbs. Roll the stuffed mushrooms in the beaten egg and then cover them in the bread crumbs. Fry the coated mushrooms lightly until the breadcrumbs become golden brown. Stick toothpicks in the cooked mushrooms. You can serve a sour cream dip with the mushrooms. Simply delicious!
Chicken Wings
Wash off the chicken wings and place them aside. Prepare a sticky marinade by combining honey, your favourite brand of barbecue sauce, brown sugar, ketchup, powdered yellow mustard, and Worcestershire sauce. Mix well and dip the chicken wings in the prepared sticky sauce. Place the chicken wings on a baking tray in the oven until cooked. Cooked sticky chicken wings can be served with a blue cheese dip. Remember to include a lot of napkins!
Potato Skins and Wedges
You can make two types of mouthwatering snacks with a bag of potatoes. Peel the potatoes, and make sure you keep the potato peels quite thick. Rinse everything and cut the peeled potatoes into wedges. Fry everything in deep oil until golden brown and cooked, and salt lightly. Cook some diced bacon and a sour cream dip with chives. Serve the fried potato skins with the fried bacon, sour cream, and chives dip. You can serve the potato wedges with the same dip or ketchup.