This week's recipe comes from Chef Saravanan Senniappan and Chef Vijay Natesanmurthy, of Big Fish & Open Range and is this BBQ Braised Beef Short Ribs with a Creamy Curry Mussels side dish. In the heart of Renfrew, you'll find a unique and cozy style service where surf meets turf. Evenings, weekday lunch, and weekend brunch, all featuring menu items that are distinctive to the Big Fish & Open Range experience.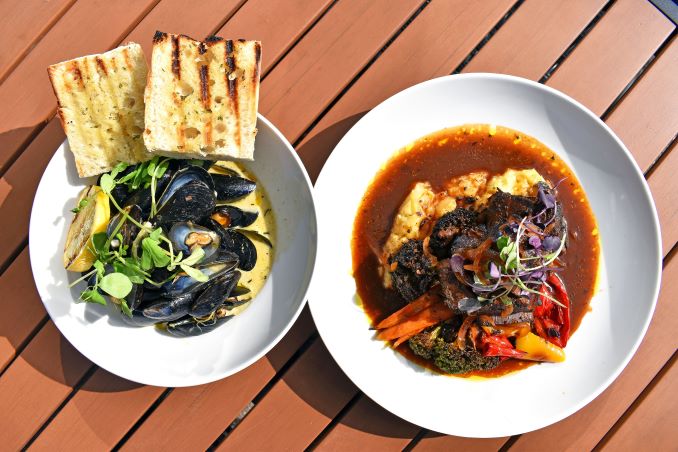 Creamy Curry Mussels & BBQ Braised Beef Short Ribs
(Serving Size 2-4 People)
BBQ Braised Beef Short Ribs
Cook Time – 3 hours
Ingredients 
– 1 lb Beef Ribs, cut and separate ribs
– Salt
– Pepper
– 1 Cup BBQ Sauce
– 1 Cup Red Wine
– Water or Stock
– Foil Wrap or Aluminum Foil
– 1 Sliced onion
Direction
1. Season beef ribs as per personal preference with salt and pepper.
2. Preheat oven to 400*
3. Place seasoned ribs on baking sheet. Roast until they are brown.
4. Transfer into a 4 inch small pan.
5. Add BBQ sauce and red wine.
6. Top up with water or stock until the ribs are covered.
7. Heat over stove until boils.
8. Remove from stove, foil wrap and bake in oven at 400* for 2 hours until the meat easily falls off the bone.
9. Strain ribs over a pot and set aside. Place pot back on the stove to reduce.
10. Skim off the fat from the top of the sauce. If there is not enough sauce, add some stock or water to build.
11. Reduce ¼ of the sauce and skim off fat again.
12. Add sliced onion to the sauce and Sautee until soft.
13. Plate ribs that have been set aside and portion 1 heaping tablespoon of sauce per short rib portion
Optional – Add rice, mash or grits, vegetables, etc. as complimenting side dishes.
Creamy Curry Mussels
Cook Time – 45 min.
Ingredients
– 1 Large thyme sprig
– 2 shallots, rough chopped
– 4 cloves garlic, crushed
– 1 cup white wine
– Another 2 oz of white wine set aside
– 1/2 Liter apple juice
– 1 lemon zested
– 1 Liters heavy cream
– Salt
– Pepper
– 3 tbs of green curry paste
– 1 tbs olive oil
– 2 tbs fresh leek, chopped
– 1 lb Mussels
– Fresh herbs
Directions
1. Combine large thyme sprig, shallots, cloves garlic, white wine, and apple juice.
2. Simmer for 8 minutes.
3. Add lemon zest, heavy cream, and salt and pepper. Bring to boil.
4. Reduce heat to simmer for 30 min.
5. Strain sauce over a pot to remove thyme, shallots, and garlic. Add green curry paste and use a hand blender or whisk to mix into sauce. Once mixed, set sauce aside.
6. Heat olive oil on a pan with medium heat.
7. Add fresh leek. Cook for 1 minute.
8. Add Mussels and season with salt and pepper. Cook for 1 minute.
9. Deglaze the same pan with the 2 oz of white wine.
10 Add creamy curry sauce that was set aside and cover the pan with a lid to steam the mussels in the sauce. Cook for 3-4 minutes. NOTE: If there are any mussels that are not open, please remove as they are not edible.
11. Plate and garnish with a fresh mix of herbs.
Optional – Add grilled garlic bread as complimenting side dish.