While many metal bands find inspiration from supernatural sources, myths, and legends, WIDOW'S PEAK find inspiration from true-life horror, from the depths of cruelty, terror, and pain that man(un)kind so readily descends to.
WIDOW'S PEAK are an aural catalogue of carnage, a metallic mausoleum of pain, a sonic symphony of suffering. Their music does not reach for the stars, but rather for the cold void that surrounds them, the darkness that lives in the soul of man.
Make no mistake, WIDOW'S PEAK's music is the Music of the Spears, metal dripping with blood, bile and venom!
Formed in April of 2016, in Calgary AB, WIDOW'S PEAK have toured hard, their line-up has gelled, and they are now on the cusp of releasing their debut six-track EP "Graceless".
Inspired by Meshuggah, Black Dahlia Murder, Pathology, Beyond Creation, and Cannibal Corpse, the band describes their sound as "brutal, dirty, technical death metal!"
The band believes that fans will react to their new EP "Graceless" with "a combination of shock, disgust, and adrenaline-pumping groove. Each song is very different from one another, and the EP is well rounded enough that fans of any type of extreme metal will find something they like. While the music is technical and the lyrics obscene, there is an underlying groove throughout that ensures the head-banging musicality is never lost."
Live, WIDOW'S PEAK gives out "high energy matched only by the technicality of our music. We don't sacrifice engaging the audience at all. It is not uncommon for us to see moshing and circle pits in even the stiffest of crowds. We put a lot of emphasis on our live playing and refuse to rely on gimmicks. That means no backing tracks, metronomes, in-ears, or costumes. We play loud, hard, and fast, like any good metal band should!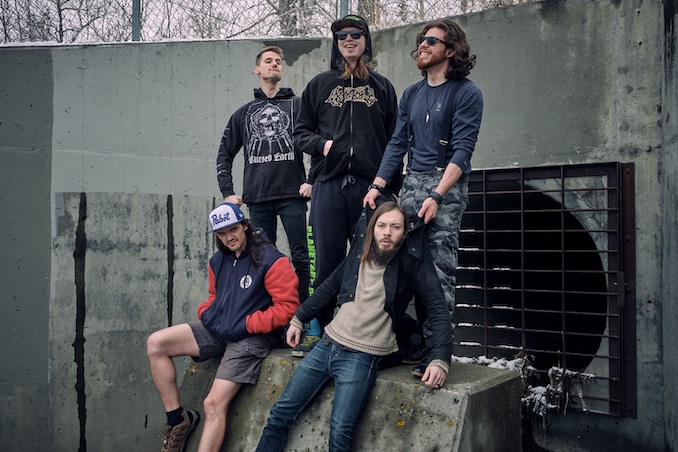 Name: Chris McCrimmon
Genre: Technical Death Metal
Founded: 2016
# of Albums: 1
Latest Release: Graceless (2018)
Latest Single: CBT
Latest Video: CBT Lyric Video
Favourite Local Restaurant:
In Calgary, it would have to be Angel's Drive-In. I'm a Bownesian, so that place is tied directly to my heart. If we're talking about locally-owned restaurants across the country, I would have to also shout out The Yellow Deli in Nelson. The food and location are equally cool, the people are great, and if you ask the citizens of Nelson about the origins, you'll learn some…. interesting stuff.
Favourite band as a teenager:
Probably Blessthefall. Despite not being Christian, it was Christian metalcore that was my introduction to heavy music. I still love their first album, His Last Walk. I also loved secular bands like Emarosa, Chiodos, and Drop Dead, Gorgeous, but Blessthefall reeled me in.
Favourite band now:
It's a toss-up between The Sugarcubes and Lifelover. I like eclectic music, especially music that explores emotions that are hard to explain in one or two words. Captain Beefheart was also excellent at that.
Guilty Pleasure Song:
I don't really have any, as I love almost all music quite openly! I think the closest thing might be Transformalin by Diagnose: Lebensgefahr. That's a tough one to introduce to people!
Live Show Ritual:
I like to warm up for a few hours, stretch lots, and do some cardio. Widow's Peak shows are pretty demanding, so I gotta get the blood pumping!
Favourite local artist:
In Calgary, that question is really difficult to answer. What a blessing this city is for music! I love Benevolent Like Quietus, Detherous, Anti-Pattern (RIP), Bayonet, Meggido, Plaguebringer, Hyperia, and Chained By Mind. I'm probably missing a lot too. Sorry!
Nose Hill or Fish Creek??
Fish Creek.
EP or LP?
Ironically enough, LP! We released our EP in 2018 but we're working on a follow-up LP.
Early bird or night owl?
Night owl all the way. I wish I could change my sorry ways, but I'm too weak!
Road or studio?
The road! Studio work sucks because I have to produce it! We do all our writing before we record so we don't really experiment too much. A recording is possibly more rewarding than touring, in terms of the finished product, but playing shows is what we do!
Where can we follow you?
Anywhere you want! We have Facebook, Instagram, Twitter, Bandcamp, and probably some other locations that I'm unaware of.
Any shows or albums coming up?
We are currently on The Crusty Cross-Canada Cruise (Sponsored by Metalheads United, Tooth And Nail Productions, Asher Media Relations, Redefining Darkness Records, and Cursed Earth Apparel) with our darling friends in Detherous, Anomalism, and Evilosity! From July 26th to September 22nd, we'll be hitting almost every city in the country, coast to coast! Our kick-off show was July 26th at New Level Brewery right here in Calgary.