Breast milk provides a valuable source of nutrients to babies, but often, they may be unable to receive it directly from their own mother. This week we spoke to the executive director of NorthernStar Mothers Milk Bank, Jannette Festival, on how her organization is helping to ensure that Canadian babies are able to get the nutrient-rich breast milk necessary to obtain optimal health.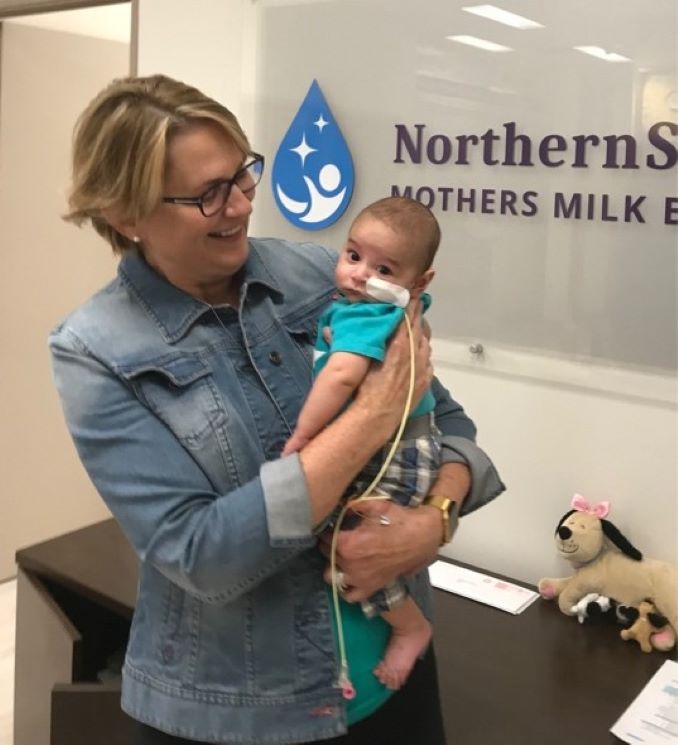 Describe your charity in a few sentences.
NorthernStar Mothers Milk Bank (NMMB) is Canada's only community-based milk bank. Operating as a charitable organization NorthernStar screens breastfeeding mothers, accepting donations of their excess breast milk. The milk from approved donors is then pasteurized in our laboratory. Milk is then dispensed to sick babies in hospitals and at home.
We believe and science supports that human milk is the best option for any baby and all babies have the right to the life-saving nutrients of pasteurized human milk.
What problem does it aim to solve?
Canada's premature birth rate is approximately 8%. Many of these babies are born too early due to various health reasons, including mom being sick herself. If mom is not able to produce milk for her own baby the next best option is pasteurized donor human milk. Human milk is designed for human babies. It has the optimal enzymes, antibodies, growth factors, vitamins to help babies grow and to obtain their optimal health. Human milk is amazingly beneficial for sick and preterm babies. For these babies it acts as a medicine as well as a food. Before NorthernStar was founded, babies in the Neonatal Intensive Care Units were fed formula which exposed them to a disease called Neonatal Enterocolitis (NEC). NEC can prove to be fatal to such a fragile life. By feeding preterm and sick babies pasteurized donor milk (if mom's own milk is not available) we have witnessed a 70% decrease in this devastating illness.
When did you start it?
NorthernStar started as Calgary Mother's Milk Bank in 2011. We then changed our name to NorthernStar Mothers Milk Bank in 2016.
What made you want to get involved?
I worked as a nurse and lactation consultant at Foothills Hospital in postpartum as well as Labor and Delivery. I had attended a conference in the USA that discussed the power of human milk and its healing capabilities for the very premature and ill infants in the NICU. At the time there was only one other milk bank in Canada that only served a few hospitals in its province. We had tried to obtain some milk from this milk bank and it was next to impossible because their supply was very limited.
What was the situation like when you started?
No one else in Canada had access to donor milk for premature babies. A few of the bigger hospitals in Canada were able to obtain some milk from the USA but often had issues at the border during shipping. The science was there, proving that human milk was the best food for babies – but Canada was not able to access it!
I knew that trying to create a milk bank through the hospital system would be a lengthy process, so I contacted the Executive Director of the successful milk bank in Austin, Texas and made a few trips with my business partner Anne Marie. We studied the community-based model of milk banking and decided it could work in Calgary – we basically had the same population and demographics. This was a community-based solution to help our most vulnerable population, sick and premature babies. Through the careful planning and fund raising we did it took us approximately 14 months to launch the milk bank, we worked all hours almost every day until it was opened.
What more needs to be done?
Education of the value of breastfeeding. If human milk saves lives, what is the value to breastfeeding your own baby? Milk banking does not work in a community where breastfeeding is not valued – they go hand-in-hand. We are constantly educating young moms through our social media. Our breastfeeding consulting experts (IBCLC's) hold free breastfeeding classes every month. With our present pandemic we are holding them on-line. NorthernStar also has a Breastfeeding Café the last Friday of every month. We have guest speakers on topics new moms are interested in, such as pelvic floor health, introducing your baby to solids, how to help them sleep, baby massage. All of this helps create a community of support for our donor mothers.
How can our readers help?
Even if you're not a breastfeeding mom you can help by financially donating to our Community Care Program. For many babies that are discharged from the hospital they need to continue on using donor milk. The cost to collect, pasteurize, and test the milk is covered by our health care system only when babies are in hospital. Our fundraising efforts cover the costs for the milk for these babies once they are discharged home. Between now and September for every dollar you donate it will be matched 50% by the Shaw Charity Classic 'Birdies for Babies'. Visit our website for more information.
Do you have any events coming up?
One of our volunteer directors is focusing on fundraising events – we are tentatively looking at a Fundraising event at the end of the year.
Where can we follow you?
PAY IT FORWARD: What is another Calgary charity you love? 
Pregnancy & Infant Loss Support Center: (ED) Aditi Loveridge