Chef Ned Bell, Buy BC's Chef Ambassador, shared with us this Baked Oysters with Maple Béarnaise recipe for your delight.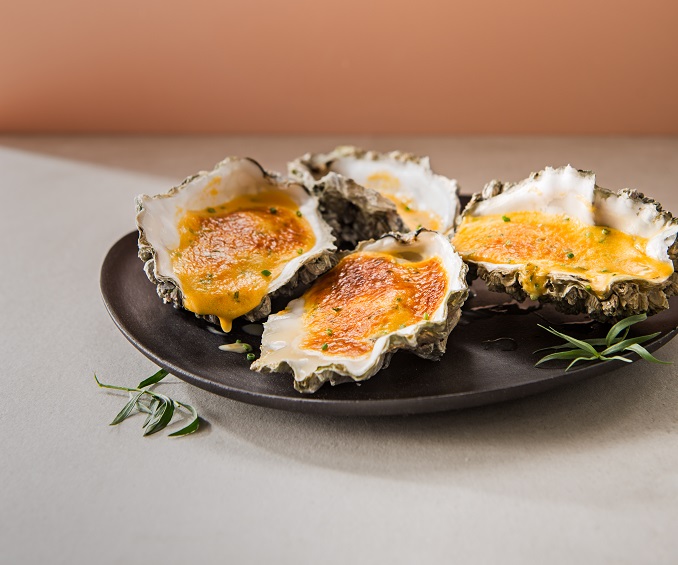 Baked Oysters with Maple Béarnaise
Ingredients:
– 1/2 cup (1 stick) unsalted butter
– 1/2 small shallot, finely chopped
– 1/4 cup white wine
– 2 Tbsp white wine vinegar
– Sea salt and coarsely ground black pepper
– 2 egg yolks
– 1 1/2 tsp maple syrup
– 1 Tbsp chopped fresh chives, plus extra for garnish
-12 Pacific oysters, freshly shucked and reserved on their half shell
– Rock salt, for positioning the oysters
Directions:
1. Melt the butter in a small saucepan over medium heat. Allow to simmer, spooning off the white froth as it rises to the surface, until there's no more froth and the milk solids accumulate on the bottom and sides of the pan. Remove the pan from the heat and let the solids settle for a few minutes. Pour off the clear, golden butter into a measuring cup, leaving the solids behind (you can also use a fine-mesh sieve or cheesecloth-lined strainer).
2. Wipe out the saucepan and add the shallots, wine, vinegar, and salt and pepper. Bring to a boil over high heat, reduce to medium heat, and simmer until the liquid is reduced to 2 tablespoons. Remove the pan from the heat and allow to cool.
3. Fill a saucepan with a couple inches of water. Bring to a simmer over medium-high heat, then reduce to low. Set a stainless-steel bowl over the simmering water and add the egg yolks. Whisk the egg yolks until doubled in volume, about 3 minutes. While whisking, slowly add the clarified butter, a little at a time, until fully incorporated and emulsified. Remove the bowl from the heat and whisk in the reserved shallot reduction. Adjust the seasoning with salt and pepper to taste, and stir in the maple syrup and chives.
4. Preheat the oven to 375°F. Pour a 1/2-inch deep layer of rock salt onto a rimmed baking sheet. Nestle the oysters in their half shell onto the salt. Cover each oyster with a spoonful of sauce. Bake for 10 minutes or until the oysters are cooked and the béarnaise sauce is golden brown. Sprinkle over some chives and serve immediately.