InceptionU is a non-profit education foundation designed to help equip Calgarians with the skills that are needed in an ever-evolving digital economy. We spoke with them to find out more.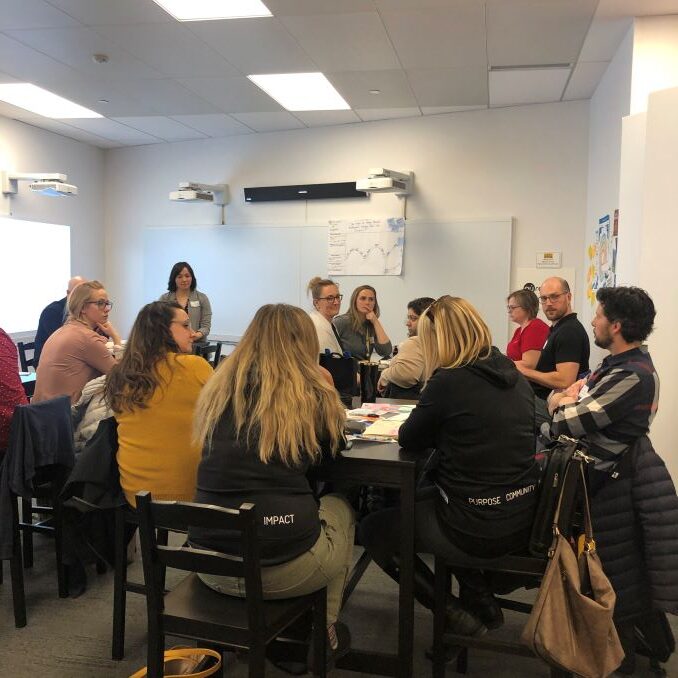 Describe your charity/non-profit:
InceptionU is a non-profit education foundation designed to help equip Calgarians with both the technical and essential (non-technical) skills that are needed now and in the future. Our biggest goal is to teach people how to learn and help them establish competencies in a rapidly changing digital economy.
What problem does it aim to solve?
Calgary's tech sector is growing rapidly and many partners are working hard to ensure Alberta can continue to establish itself as a major tech hub in Canada. Currently, there's a mismatch between currently available skills and the job opportunities that exist. Calgary has a goal of 45,000 tech workers by 2031 with a long list of job openings for software developers, data scientists/analysts, UX/UI designers, etc.
InceptionU offers two programs – Full Stack Developer and Full Stack Designer – these are rapid 6-month reskilling programs to help people transition careers.
When did you start/join it?
InceptionU was founded in 2018 by three Calgarians – Margo Purcell, Jill Langer and Greg Hart. Since 2018, it has successfully run 7 Cohorts (Cohort 8 launches Feb. 14th) with a total of 230 learners to date and an employment success rate of 70% within 5 months of program completion. Participants range in age from 20-65.
What made you want to get involved?
The InceptionU co-founders, all three working in the business consulting world, we're witnessing the downturn of Calgary's economy and knew the narrative needed to change. Calgary and Alberta had a wealth of talent, but the future could no longer be tied to just the oil and gas industry.
What was the situation like when you started?
The co-founders observed dysfunctional workplaces and gaps in the education system to adequately prepare people for the future of work and to do so quickly. They set out to change that by launching InceptionU.
How has it changed since?
Great strides have been made towards diversifying Calgary's economy. The business sector, all levels of government and Calgarians have really embraced the idea of technology helping to propel our economy forward.
When InceptionU started, there were no local short-form programs offering future building skills. Today, there are a variety of different approaches available with options that fit a variety of people. Our tech sector has taken off, but we are still facing issues around talent, competency and the ability of curriculum to be responsive to the needs of industry while rapidly re-skilling people.
What more needs to be done?
From our perspective, we'd like to see investment from companies, in the form of bursaries and scholarships, to help those who can't afford training. Government funding is available for some programs, but sometimes people don't qualify and don't have the means to fund it themselves. We see this is a missed opportunity.
We are working with both levels of government to allow RRSP and RESP eligibility for our short-form programs. Right now, the rules around using this money are somewhat limited to more traditional educational institutions, like universities.
We are encouraging hiring managers and recruiters to start thinking differently about how they hire talent. We believe companies should be hiring for potential, instead of experience, which will help provide opportunities for new talent.
How can our readers help?
If you are a business owner, please reach out to discuss collaborations and ways we can create opportunities for our graduates.
If you are a hiring manager or recruiter, contact us about highly skilled Calgarians who are completing our programs and will be looking for work.
If you are someone thinking about getting into tech, be curious! Check out Rainforest Alberta and attend their weekly Lunch Without Lunch sessions; it's important to start making connections. We also have alumni who are willing to share their experiences.
If you are reading this article, share it with someone who you think might be interested.
Do you have any events coming up?
Feb. 14th – Cohort 8 of our Full Stack Developer program begins Feb. 14th and we are still accepting applications.
March 10th – Our Cohort 7 Demo Day is Thursday, March 10th – this is a great opportunity to see what our learners are capable of and scout new talent coming into the marketplace.
March 31st – Get your Git On – this is an open invitation to local employers to join our new InceptionU Community Platform (through Nicerr) where employers can engage directly with talent coming out of our program. Watch for more info coming soon!
Where can we follow you?
InceptionU on LinkedIn and Instagram
PAY IT FORWARD: What is an awesome local charity that you love?
We are big fans of Mindfuel, an education technology leader that brings STEM (science, technology, engineering and math) to life both inside and outside the K-12 classroom.