Lianne La Havas meets Kan Wakan at a Portishead concert. Meet broody trip-hop x contemporary pop.
Vina After Dark's warm siren vocals will raise goosebumps across your skin as you head-nod to chilled out drums, groovy bass, and ethereal, crying guitar lines. And if you're lyrically focused, you're in luck: think Emily Haines's poetic acuity with Nina Simone's tender sparseness.
In early 2018, Vina After Dark began as a singer-songwriter known for her stage presence and novel, unresolving style that pairs minimalist guitar playing with honeyed, melodic vocals, driving songs at a pensive pace into sweet melancholia.
By 2019, Vina After Dark acquired a full-bodied sound and instant appeal with Dav's twinkling guitar lines and bass playing groove that borrows from Victor Wooten and Juan Nelson. Funk, rhythm, and a whole lot of head-nodding fun came onto the scene with Deifante's complex fills and idiosyncratic timing that are as dynamic as they are purely based on feel.
Though contemporary pop is at the core of Vina After Dark's music, their creative tonal range and instrumentation are achieved through the careful and playful knitting of hip-hop, trip-hop, soul, R&B, jazz, and even folk. Electrifying guitars and synths add textural layers that radiate an ethereal edge. These, along with effortlessly celestial vocals achieve a unique airiness that is subtly grounded by elements beyond that of drums and bass.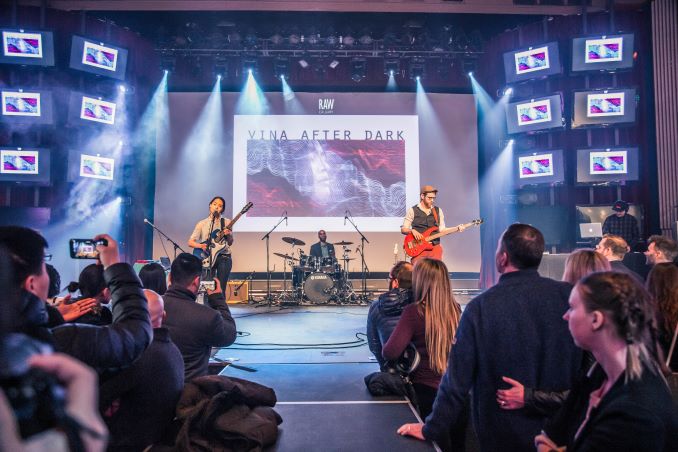 Name: Vina After Dark (Vina Nguyen; Dafydd James; Deifante Walters)
Genre: trip-hop x contemporary pop
Founded: 2019
# of Albums: 2
Latest Release: Us Vs (EP) – July 1, 2020!!!
Latest Single: City Sleepwalker
Latest Video:
Favourite Local Restaurant:
Joycee's Caribbean Food on Edmonton Trail.
Favourite band as a teenager:
Dei: It's corny… but Boyz II Men.
Dav: Muse.
Vina: Aqua! Her voice! Barbie made me feel really uncomfortable though.
Favourite band now:
Vina: Metric.
Dei: Fearless Flyers (Nate Smith!).
Dav: Queens of the Stone Age.
Guilty Pleasure Song:
Dav: Sexy Back (Justin Timberlake).
Dei: I Think We're Alone Now (Tiffany).
Vina: I Have Nothing (Whitney Houston).
Live Show Ritual:
Headnod.
Favourite local artist:
Dei: Tegan & Sarah.
Dav: High Kicks.
Vina: Sargent x Comrade.
Nose Hill or Fish Creek??
Vina: I'm the roaming ghost of Nose Hill.
Dei: Fish Creek.
Dav: Fish Creek.
EP or LP?
LP
Early bird or night owl?
Vina: Whoo stays up late?
Dav: Late.
Dei: Early bird…
Road or studio?
Vina: Apparently anything that moves while I'm in it makes me vomit.
Dei: Road.
Dav: Road.
Where can we follow you?
Myspace… Jokes. We're on IG, FB, and YT! We're also on all your streaming platforms and Bandcamp, of course. 🙂
Any shows or albums coming up?
We're in the works for a couple of interviews and livestreams with community hosts and venues so stay tuned on our social media!