Self-Cut Bangs (members of Napalmpom and Dark Time) write rock & roll songs that don't wear out their welcome. Big hooks, guitars and hearts. Initially started as a means to kill time without killing their wallets in the very early days of 2020 quarantine, with no ambitions, Cayley O'Neill and Shawn Petsche spent a short Saturday afternoon writing a rock song that looked forward to time outside of their small Calgary apartment. As quarantine was extended, and extended again, so too was the tradition of waking up Saturday morning and writing and recording a song before the sun went down (um, sorry neighbours!) by themselves, for no one else but themselves. The routine gave them a distraction and a purpose and before they knew it, they had an album's worth of material that they slowly admitted to themselves was "actually pretty good. Maybe even really good?"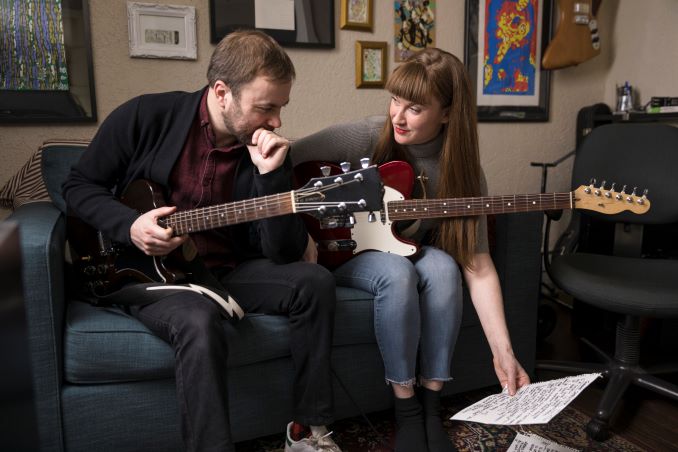 Name: Self-Cut Bangs (Cayley O'Neill & Shawn Petsche)
Genre: Most of the subgenres of rock & roll (garage, power pop, punk, post-punk, even some glam?)
Founded: March 28th, 2020.
# of Albums: One, but that's pretty good for only being a "band" for 5 months?!
Latest Release: Self-Cut Bangs – out Friday, September 18th, but available to pre-order now at http://selfcutbangs.bandcamp.com
Latest Single: "Pillow Talk"
Latest Video: Our first single, "Pillow Talk." The video is a deep rumination on the mental toll of the live music industry collapsing while professional wrestling is deemed an essential service.
Favourite Local Restaurant:
Cayley O'Neill: Dandy Brewing Company, Little Empire Burgers, The Dragon Pearl
Shawn Petsche: All of those, and also Alumni (the Serranito, Rosemary Beef Dip and Nashville Hot Chicken are mind-meltingly good), Noble & Pizzaface and Indonesian Kitchen. And all of the venues that are hurting right now: the #1 Legion, The Palomino, Ship & Anchor, Tubby Dog, Dickens, etc.!
Favourite band as a teenager:
C: AFI/The Distillers.
S: Sloan into Thrush Hermit into Tricky Woo.
Favourite band now:
C: Thrush Hermit.
S: If I had to pick just one, probably Ex Hex. But also Viagra Boys, Royal Headache, Civic and of course, Dark Time!
Guilty Pleasure Song:
C: "Don't Start Now" by Dua Lipa.
S: I don't really feel guilty about any, but people are surprised when I say Cyndi Lauper's version of "Girls Just Want To Have Fun" is one of my Top 5 favourite songs ever.
Live Show Ritual:
C: Blast Mariah Carey or Taylor Swift on the way to the venue.
S: I'm sorry for being crass, but the pre-show poop. I've long believed that to play a great set, you've gotta' let go first. Sorry.
Favourite local artist:
C: I can't pick one! I love watching Stripmall and Dri Hiev perform.
S: Great picks. I'd reiterate that there's too many to name, but that I'm always excited to see Hairnet, Janitor Scum, Cartel Madras, Intimacy, The Shiverettes, Night Committee, The Mandates, and was very excited to see Chris Zajko's new projects Bridgeland and Mirska. But yeah, these days, I'd kill to see any good local band and cherish them like I should have before.
Nose Hill or Fish Creek??
C: Fish Creek.
S: I go where she goes! (also: which one is closer to a brewery?)
EP or LP?
C: LP.
S: LP.
Early bird or night owl?
C: Night owl.
S: Early bird for sure.
Road or studio?
C: Studio.
S: The grass is always greener. Now that we can't debut this band with a sweaty live show, I'm wanting the road. But when I was playing multiple shows a month with Napalmpom, I was always wanting to finish songs and release a new record.
Where can we follow you?
Bandcamp
Instagram
Facebook
Youtube
…and the album will be on every platform you can digitally listen to music on September 18th.
Any shows or albums coming up?
S: Our album comes out September 18th, with pre-orders available now on Bandcamp. We've got another music video ready to go. As for live shows…I guess when it's not only safe to do so, but also fun? As it stands, we have 2 members out of a potential 4-5 piece band, and we are gonna' keep it that way until we get the go-ahead to start practicing with new people.
And also, playing indoors with the current restriction of needing a plexiglass soundbooth for Cayley to sing in sounds…well, kind of humiliating and awful, and maybe not the best idea to begin with, so maybe when those restrictions get lifted too? Either way, we hope to play these songs live soon, as we're very proud of this thing.