Raised on the Alberta Prairies, award winning country artist Ryan Lindsay brings his strong roots into his modern country sound. A troubadour of his generation, he has lived a wild life: Ryan has hiked solo across mountains in Greenland, canoed across the Arctic Tundra, guided backcountry trips throughout Canada, and now, he writes and tours as a country artist. His songs are a reflection of those life experiences, and his voice is reminiscent of '90s country, citing his influences as Dierks Bentley, Ronnie Dunn, and Garth Brooks. Yet Ryan jumps into his music with a contemporary twist on a classic country sound. The music he creates is truly authentic, and it all culminates into a captivating live show—Ryan Lindsay carries an undeniable presence on stage that wraps you up in story, song, and an engaging live experience.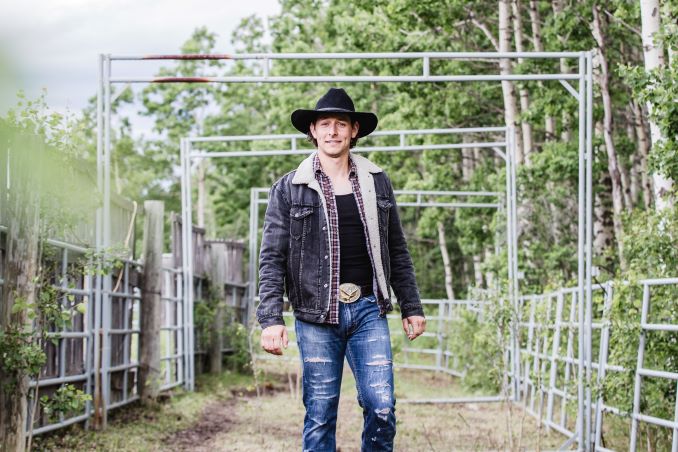 Name: Ryan Lindsay
Genre: Country Music
Founded: Founded in 1993 – the year I was born! To me my music journey as a country artist has been a result of my whole life. I have been playing professionally for almost 10 years now, but I put out my first single as a solo artist on 2018.
# of Albums: Two albums, "Wild" and "The Ride"
Latest Release: My new album "The Ride" recently came out this fall.
Latest Video:
Favourite Local Restaurant:
Hayden Block. Always would wind up there after a gig to get the late night deal on a good brisket.
Favourite band as a teenager:
I remember my mother bought me Paul Brandt's "This Time Around" album when I was in my early teens. I spun the heck out of that CD.
Favourite band now:
A few regulars playing around my place these days are Brothers Osborne, Cody Johnson, and Jon Pardi.
Guilty Pleasure Song:
Oh man, probably the entire new Harry Styles album. Great songs, and really creative production.
Live Show Ritual:
It's all about hanging with the band! I love going out for dinner with the guys before hand or having drink backstage.
Favourite local artist:
My pal Blake Reid. Love what he is doing with his music. He just dropped a new single. Go check it out.
Nose Hill or Fish Creek??
Calgary has some incredible parks. I don't know if I have a go-to. Any chance I can get I try to connect with nature. If I am in Calgary for a show, getting out to a park for a walk is such a great way to get grounded – especially if I have been travelling a lot. Speaking of Calgary parks, you can watch a virtual show I did in Ralph Klein park this summer with TD Bank and CMI.
EP or LP?
In this day and age, everyone is putting out singles, so I'll take an album either way. EP or LP. I still love listening to bodies of work. That is my favourite way to listen to music.
Early bird or night owl?
Early Bird during the week and Night Owl on weekends.
Road or studio?
Can't have one without the other. I love them both. The studio is such an incredible process of discovering the music, and the road is about realizing those songs on the band stand. These days I'm sure missing the road a lot. I feel like I need that balance back in my music life.
Where can we follow you?
Instagram
TikTok
Facebook
YouTube
Twitter
Streaming
Any shows or albums coming up?
Watch for a series of acoustic videos coming out from my new album premiering on the Country Note. Here's the latest one.