Inspired by the history of North American roots music, Calgary based Marcus Trummer Band's eclectic brand of rock & roll features a blend of passionate, bluesy guitar playing and down-to-earth, soul inspired vocals. They have drawn comparisons to Chris Stapleton, The Black Crowes, and The Allman Brothers Band with a modern, yet familiar take on the timeless sounds of past decades. These stylings are front and centre on Marcus Trummer Band's debut EP, These Roads.
These Roads (Nov. 2020) is anchored in the band's guitar-driven sound and features Trummer's insightful lyrics that delve into the journey that is life. The four-track EP, recorded and produced by LA recording veteran Steve Dierkens at Studio D in Calgary, is a relevant offering of positivity. As Trummer puts it, "Music has always been somewhat of an escape for me, my therapy in a way. I want this EP to be a ray of hope for anyone going through hard times". This is perhaps most apparent in the lead single "Waiting for the Storm to Pass", which speaks to the need for patience and optimism during difficult seasons in life. While fitting for current times, These Roads was recorded before the pandemic. "It was originally written as somewhat of a self-mantra for me growing up in a world that can feel pretty crazy sometimes. Recently, however it has taken on a deeper meaning in light of the current situation", says Trummer. With a message best summed up by its first song "Keep On", These Roads is a recording many can relate to and is a reminder to keep on keepin' on, regardless of what life throws at you.
After bursting onto the scene in 2018, the Marcus Trummer Band have gone on to headline some of Calgary's most respected venues including Ironwood Stage & Grill, The King Eddy, and Mikey's on 12th, where they sold out their single release show in September 2020. In 2019, they played sets at the Calgary International Blues Festival and Waynestock Music Festivals. Trummer has also had the opportunity to share stages with numerous other artists, both as a sideman on guitar and as a support act. Notable artists include, JUNO Award winners MonkeyJunk and Jim Byrnes. Marcus Trummer Band's debut single, "Good Times" (2018) received radio support from X92.9 and CJSW, and helped earn Trummer the Zackariah and the Prophets Memorial Award at the 2019 YYC Music Awards. Trummer was also recognized by the Calgary Blues Festival in 2019, receiving the Randy Ouston Scholarship.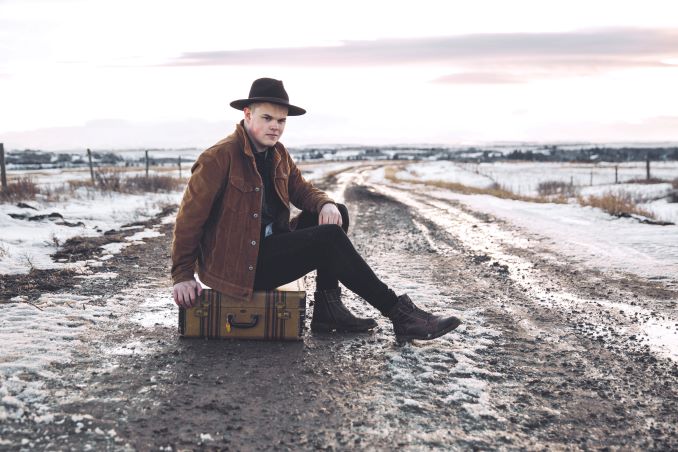 Name: Marcus Trummer / Marcus Trummer Band
Genre: Roots-Rock
Founded: 2001 (Marcus Trummer Band in 2018)
# of Albums: The band and I just released our debut EP, These Roads in November.
Latest Release: "These Roads" EP
Latest Single: "Keep On"
Latest Video: Recently I had the honour of being a part of the National Music Centre's virtual gala with my band. (Skip to around 57:00 for our performance).
Favourite Local Restaurant:
Mikey's Taco Shop
Favourite band as a teenager:
I've still got a few more months of being a teenager… so I guess let's go with Tom Petty and the Heartbreakers as my favorite of all time, and Tedeschi Trucks Band as my favorite at the moment.
Guilty Pleasure Song:
Seal – Kiss From A Rose
Live Show Ritual:
I don't really have one… I'm a pretty simple guy. I sometimes splash some water on my face for a little shake up before I hit the stage.
Favourite local artist:
Wyatt C. Louis, Justine Vandergrift, Mitch Belot Band, Rooks, The Static Shift, Peter and the Wolves, Kate Stevens… to name a few. So much talent in this city!
Nose Hill or Fish Creek??
Nose Hill… when I can't go to the mountains. I'm a sucker for a good view.
EP or LP?
LP for sure.
Early bird or night owl?
Very much a night owl. I often get the most done late at night when I'm the only one up. That's also when my best songs are written.
Road or studio?
Definitely gotta go with the road. Playing shows, and meeting new people… that's what I live for.
Where can we follow you?
Any shows or albums coming up?
We had a little Southern Alberta tour planned to support the new EP but we've had to postpone it for now, for obvious reasons… Stay tuned on our website for updated show dates.