Axis Z Media Arts (AZMA) is a Calgary-based digital studio creating genre-blurring digital art experiences. AZMA was initially founded as an artist collective in 2015 and has since transformed into a digital production studio that specializes in creating custom-made projection mapping, audiovisual designs, and interactive installations with a focus on artistic detail, technical execution, and audience participation. Through a cross-disciplinary and collaborative approach, AZMA creates innovative and engaging projects that bring the digital out of the screen and into the real world.
Responding to a shortage of digital arts education and community engagement, AZMA offers educational opportunities through annual workshops and teaching engagements. In the fall of 2020 founding members, Laura Anzola and Matthew Waddell were invited to teach at the University of Calgary School of Architecture, Planning, and Landscape. Over the course of the semester, students were introduced to concepts of interactive art, media programming, and responsive environment design.
Recently, in partnership with the Victoria Park BIA, AZMA presented Gravitation, Calgary's longest large-scale, projection-mapped installation to date. Gravitation activated three buildings along the 1200 block of 1st Street SW, lighting up the facades with particle-based animations and inspiring texts reflecting life under a pandemic. This production, which ran nightly for the month of October 2020, created a unique and mesmerizing visual experience that aimed to shine some light on the dark times we are all facing. The fluctuating movements within Gravitation are inspired by the ways society has adapted to deal with the challenges present during COVID-19 and the difficulties of being apart while trying to connect with loved ones and the world around us.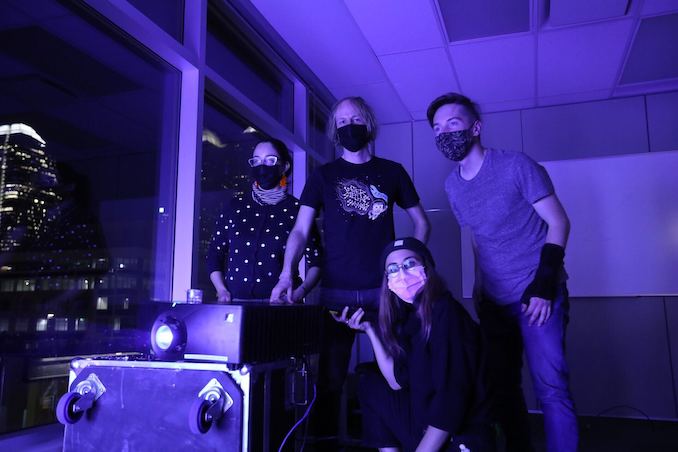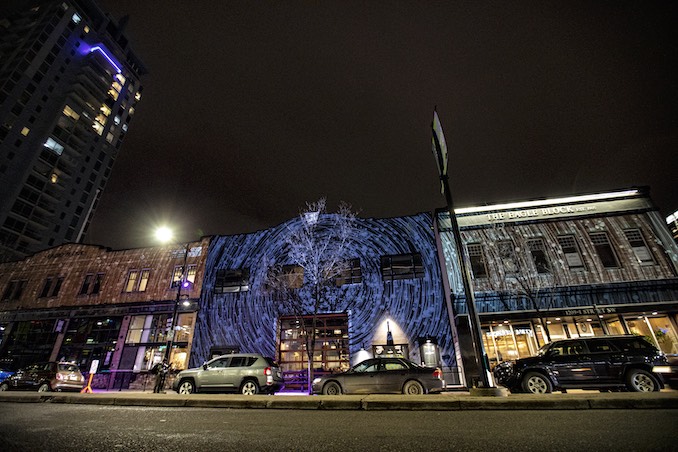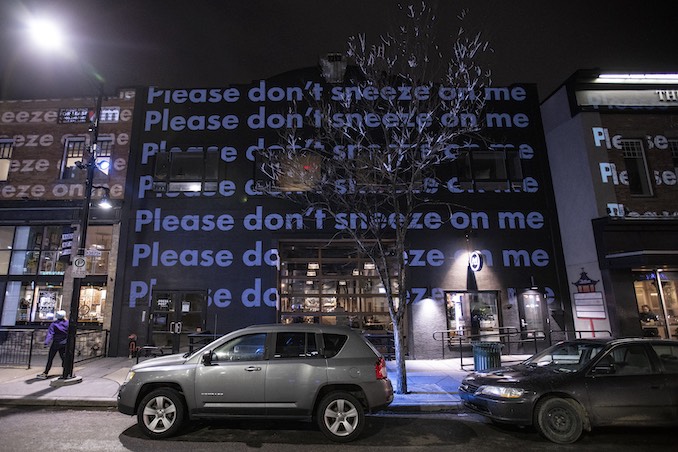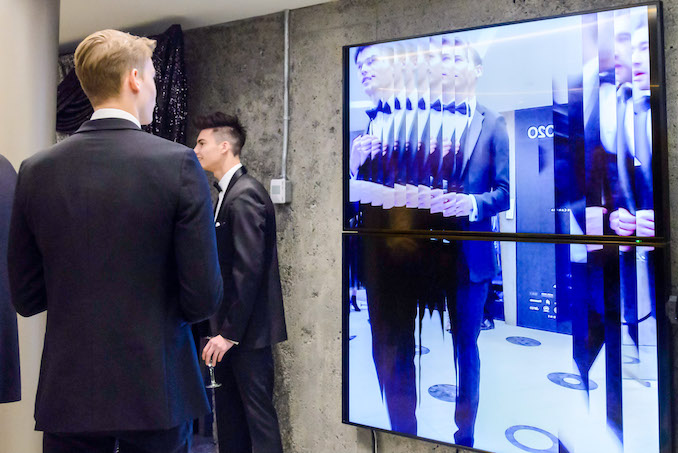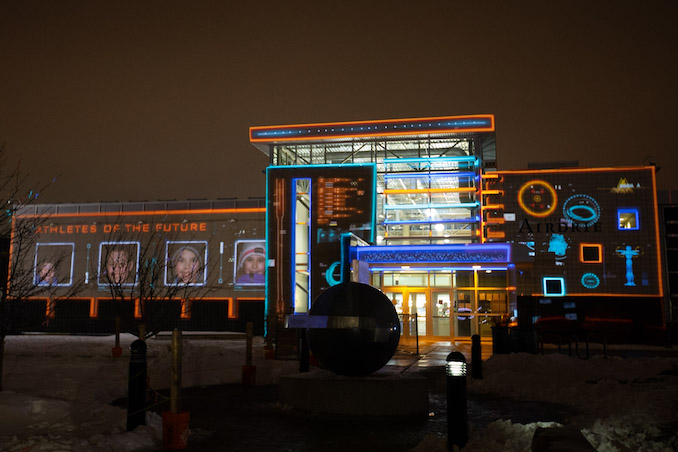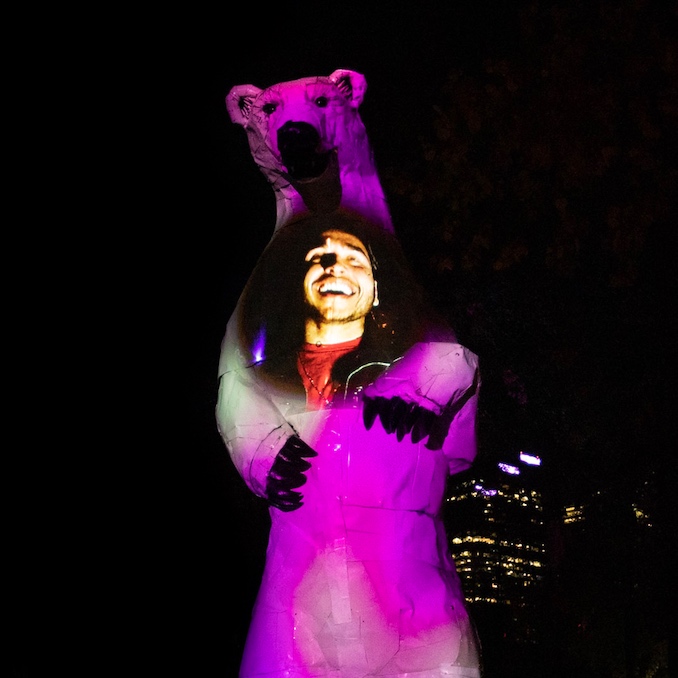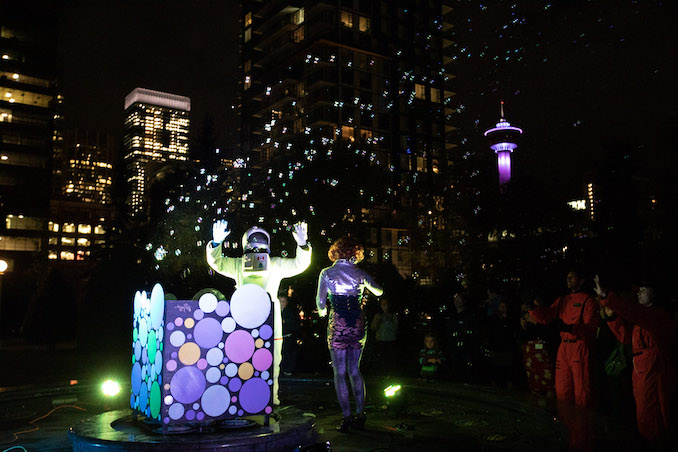 ***
Which 'hood are you in?
AZMA has a workshop in Bowness and a studio in Inglewood in the New Blank – a concept studio designed to offer spaces for local creatives interested in professional development and creative exploration.
What do you do?
We do a lot of different things revolving around digital art creation. We love creating our digital tools and custom-made experiences that allow us to explore human-machine interactions. We are excited about the interactive and unconventional potentials technology has to offer and creating digital experiences that are awe-inspiring and memorable. We place a lot of emphasis on collaboration and engaging audiences with our work, which is often installed in public spaces throughout the city.
What are you currently working on?
Currently, we are working on a number of interactive public works that will allow audiences to engage with digital art while respecting COVID's boundaries. We're also constantly researching new technologies – right now that includes Raspberry Pi, LEDs, and lasers.
Where can we find your work?
Follow @azmadigital on Instagram or visit their website Axis-Z Media Arts.