Aimee-Jo Benoit is 41 years old, but even at that age she still considers herself an emerging artist. As a mother of 3 daughters all under the age of 11, she has spent the past decade in the cocoon of motherhood, dreaming of musical arrangements of her favourite songs while raising her young family. As her youngest daughter grew older and needed her less, she started focusing on her next steps as an artist and applied and received an Individual Project Grant from Calgary Arts Development in 2019. The result of that grant is a collaboration between Benoit and Trio Velocity titled BORJONER*. The album is a selection of loosely arranged, somewhat improvised tunes closest to the heart of Benoit's musical journey and together the tracks embody the sprouts of inspiration that come when the band plays together.
After growing up singing in Church Choirs and school musicals, Aimee-Jo began her career in Jazz at the age of 21 years old, when she first met Viviane Martin and attended a workshop on Vocal Jazz. She has been regularly performing in the local jazz scene since those first workshops, as well as a stint touring Canada and the UK with Woodpigeon (headed by ex-pat Calgarian Mark Hamilton.) She has sung support vocals for Spreepark, The Summerlad, Aaron Booth, and more recently Hermitess as a part of The Witch Choir. Aimee-Jo is well known for her uncommon tone and authenticity in her approach to the Jazz genre.
Aimee-Jo also holds a Master of Arts degree where she focused on the role of improvisation in academic learning and the need to embrace humanity in the academic study of Religion. An avid thinker, she also writes a blog titled MOTHER/MUSIC/HOOD, which explores her experiences of being a Mother and Musician and works towards building a support community for other working creative mothers and enable their second acts to come to fruition as well.
BORJONER is out Friday, June 26th on all digital platforms and is available for purchase from the artist's website and aimee-jobenoit.bandcamp.com
*BORJONER is Old French for Burgeoning, and means to put out sprouts or buds.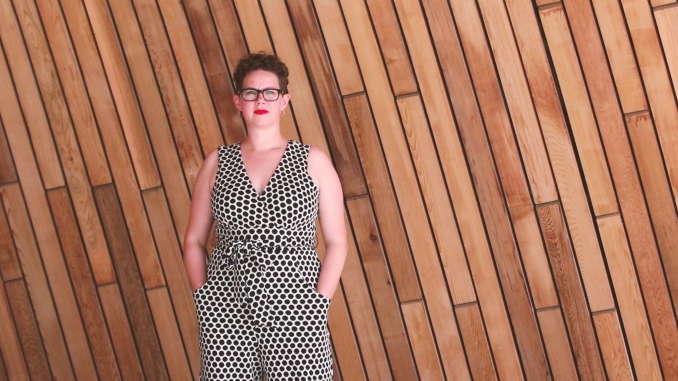 Name: Aimee-Jo Benoit
Genre: Jazz (among other things)
Founded: Age 9 (ask my siblings!)
# of Albums: 1 Jazz, 4 with Woodpigeon, a bunch of back ups for different local folks (Aaron Booth, Spreepark, The Summerlad, Hermitess)
Latest Release: BORJONER
Latest Single: I Love You
Latest Video: 
Favourite Local Restaurant:
Charbar
Favourite band as a teenager:
Sarah Mclachlan
Favourite band now:
Snailhouse/Michael Feuerstack
Guilty Pleasure Song:
ABBA The Winner Takes it all. But I never feel guilty about it 🙂
Live Show Ritual:
Leave house in a rush after feeding children some kind of noodle, arrive as early as possible, put make up on in venue bathroom, and just sit in the space as much as possible before taking the stage. After the first set, I usually have a glass of wine and relax into the rest of the night.
Favourite local artist:
Painter? Amy Dryer
Nose Hill or Fish Creek??
North Glenmore 🙂
EP or LP?
LP
Early bird or night owl?
Early Bird
Road or studio?
Hmmmm….The Road
Where can we follow you?
@aimeejobenoitmusic (Facebook and Instagram) @aimeejobenoit (Twitter)
My website to sign up for mailing list.
Any shows or albums coming up?
SHOWS: Only in my dreams! Borjoner out Friday June 26 🙂