Close your eyes… picture where you were the first time that you heard that really, really great song… the first one that comes to mind. The song with the jangling guitars, pounding drums, thumping bass, moaning organ, three-part harmonies, and the lyrics that spoke directly to you. The one that changed your life. The song, that every time you hear it, takes you back to a memory, a feeling, a love, a loss, an amazing moment of time…
Open your eyes and fast forward five, ten, fifteen or maybe even thirty years (or more)…. the Brother Bicker Band is trying to recapture that memory, that feeling, that love, that loss and that amazing moment in time with every song that they play, original or cover.
The band grew out of Jeremy's solo EP project, Bucket List, under the name Brother Bicker and now includes Tom Mogan on guitar; Jim Duncan on bass; Ben Ellard on keys and newest member Matt Dawe on drums. The Brother Bicker Band brings a unique and refreshing take on the "roots" rock genre. In 2020, the band's pandemic-released single, Breaking Glass, off of the second EP, Hospitality and Northern Charm, was nominated for a YYC Music Award for Rock Recording of the Year.
The band is currently in the studio with Broken Tap Records producer, Christian Stonehouse, recording their as-yet-to-named third album, slated for release in late 2022 and early 2023. This new album will incorporate the energy and emotion of the band's live shows with their throwback sound and songwriting style, best described as "maple whiskey rock n roll" – well-aged and a little bit harsh, it may burn a little at first. It has a touch of sweetness and is uniquely Canadian. And like whiskey, the more you indulge, the more fun you have and the better you feel….and if you have too much you just may forget everything.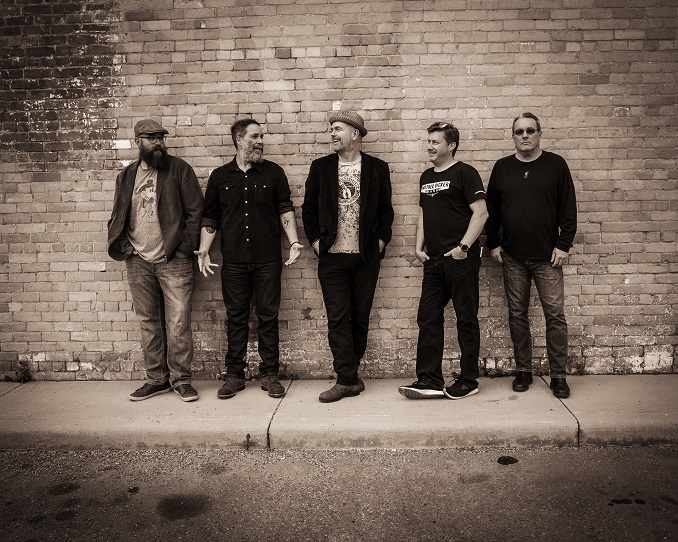 Name:
Jeremy Hrdlicka of The Brother Bicker Band
Other members: Tom Mogan (Guitars), Jim Duncan (Bass), Ben Ellard (Keys), Matt Dawe (Drums)
Genre:
Roots Rock/Maple Whiskey Rock n Roll
Founded:
2015
# of Albums:
Two. Bucket List, released March 2015 under Brother Bicker and Hospitality & Northern Charm, released March 2020. Currently in the studio recording the Third Album.
Latest Album:
Hospitality & Northern Charm (2020)
Latest Single:
Caution Sign
Latest Video: 
Favourite musician growing up:
Def Leppard
Favourite musician now:
Whiskey Meyers
Guilty pleasure song:
MMMBop – Hansen
Live show ritual:
Load in, vodka soda, green room vocal warm-up, band huddle and rock n roll!
Favourite local musician:
The Rooks
EP or LP?
EP – less commitment
Early bird or night owl?
Night Owl
Road or studio?
Yes!
Any shows or albums coming up? 
Third EP, yet to be named, coming out soon.
Where can we follow you? 
Spotify | Website | Facebook | Instagram | YouTube
***
Rapid Fire Calgary Qs
Favourite local restaurant:
Caesar's Steakhouse Downtown – I am always afraid of getting whacked by "wise guys" when I sit in the red velvet furniture
Favourite street in your city: 
9 Avenue – the Music Mile
Favourite park in your city: 
South Glenmore Park – close to my house
Favourite music venue in your city:
Ironwood – one of the few venues in town with a sense of history
Favourite music store in your city:
Long & McQuade – I can lose hours in there