Lÿnx is a Hard Rock/ Glam Metal band hailing from Calgary, Canada. Their sound is highly inspired by classic rock & 80s rock. During the 2020 pandemic, the band was formed by former vocalist Lazer Wild and lead guitarist Blade. Soon after, bassist Fangs and drummer Flash joined and Lÿnx was formed. The band is currently fronted by Ja6ur on vocals, Blade on guitar, Fangs on bass and Flash on drums/percussion.
Connected by a shared love of 80s hair metal and hard rock, the band immediately set about writing original songs that embody the style and swagger of the past, while embracing the polished production and down-to-earth grit of their modern rock influences.
Lÿnx released their debut self-titled EP in February 2021 followed up by their second EP titled 'Long Live Rock N Roll' in September 2021 with Bullzhorn Records. Since their releases, the band has gained popularity through various reviews on different media platforms in Europe, Australia and North America. Having gained a reputation for their anthemic choruses, sizzling guitar solos and powerhouse vocals, Lÿnx has garnered a dedicated and eclectic international fan base.
The band has hit the stages with high energy and connected with their audiences through the love of Rock N Roll. The band aims to build on the momentum created by their released music and push their sound into even more extreme levels of Rock N Roll.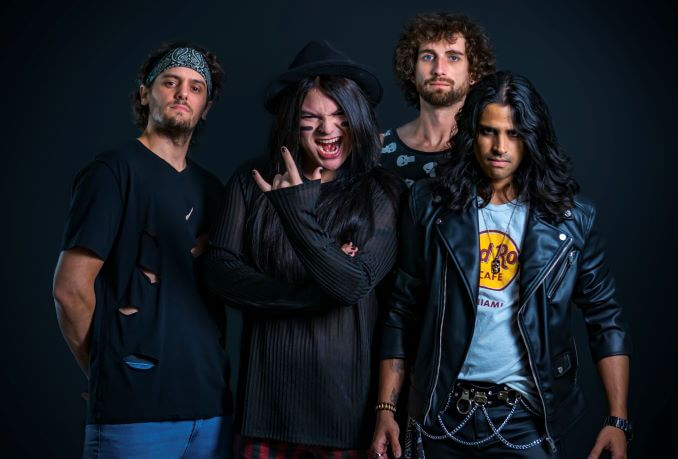 Name:
Lÿnx
Genre:
Rock / Hard Rock / Glam metal
Founded:
October 2020
# of Albums:
2 EPs
Latest Album:
Long Live Rock n' Roll
Latest Single:
Shake it up
Latest Video:
Favourite musician growing up:
Ja6ur: Sebastian Bach, Jacky Vincent & Nikki Sixx
Blade: Slash, Eddie Van Halen, Vito Bratta
Fangs: Billy Sheehan, Geddy Lee & John Paul Jones
Flash: Jon Bonham, Nick Mason & Jimmy Page
Favourite musician now:
Slipknot, Palaye Royale, Jinjer
Guilty pleasure song:
Sweet Child o' mine – Guns n Roses
Live show ritual:
One shot of Dark Rum or Vodka
Favourite local musician:
Faster Than Bears, Mixed Blame, Whorrify
EP or LP?
LP all the way
Early bird or night owl?
Night owl
Road or studio?
50/50
Any shows or albums coming up?
We have shows booked all around Alberta and in BC. Also, we're working on our next album "Claws out" which will be releasing sometime in 2023.
Where can we follow you?
Instagram | Facebook | Twitter | Spotify | Website
***
Rapid Fire Calgary Qs
Favourite local restaurant:
Tibet Kitchen
Favourite Street in your city:
17th Ave Downtown Calgary. Awesome food and Humble vibe that really shows what an amazing city Calgary is.
Favourite Park in your city:
Heritage Park – The best place to get the full scope of the history of this amazing city.
With an amazing walking trail, Gasoline Alley Museum, and Historical village it really is a must-go-to enjoy a beautiful day in the city.
Favourite music venue in your city:
Vern's Pub is a must-play for any band coming from, or through Calgary. Clint's dedication to the local music scene is unmatched and we love everything time that we get to play there.
Favourite music store in your city:
Melodiya Records, Turn it up! Records & Hi-Fi if you are a record collector these are must-visit places to add to your collection.