Hey there, I'm Luka! I am a friendly, energetic young boy who LOVES to play! I hope my new family will have lots of fun toys at home for me to play with! I'm a bit of an athlete, so having a tall fence around your yard would be a bonus. I might also enjoy agility! Because I have so much energy, I will need adopters who are willing to help me gets lots of exercise. I would love to try hiking, jogging, swimming – I'll give it a go. Puzzle toys and feeders are also a great way to help me burn some energy by exercising my brain. I am still learning how to be polite, so I would love for my future family to understand positive reinforcement training to help me learn skills like loose-leashing walking (I'm a very strong boy!) and not to jump up on strangers. One more thing – I'm just not a fan of other dogs, so I will need to be only the only dog in your home! Don't worry; I have more than enough love to give!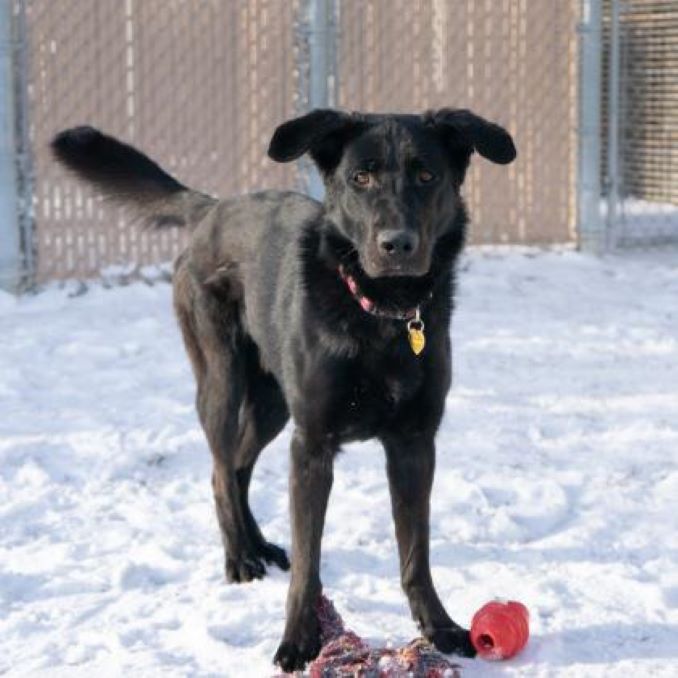 Luka
Breed: German Shepherd/Mix
Age: 1 year 2 months
Gender: Male
Size: Large
Colour: Black
Spayed/Neutered: Yes
Weight: 25.6 KG (56 lbs)
Luka is available for viewing at the Calgary Humane Society! Interested adopters are welcome to self-schedule for an adoption appointment using our online calendar here.
About this column:
Each week we feature animals available for adoption from local shelters in the Calgary area with the hopes that our readers will assist in finding good homes for them. If you, or someone you know, has the resources to take care of one of these animals, please do get in touch with the appropriate shelter via the links provided.