Will Collisson, now based in Calgary, got into stand-up comedy while attending University in Lethbridge. He has been writing his own jokes since he was 14 and decided one evening, now 18, to give it a shot onstage. It was a great first show where he got to display his witty anecdotes and observational humour for the first time. Needless to say, Will loved it so much that he even began a podcast with his best friend, a comedy show called Postgame Overtime.
Now honing his comedic skills at venues across Calgary, we got a chance to catch up with Will and discuss his growing penchant for making people laugh.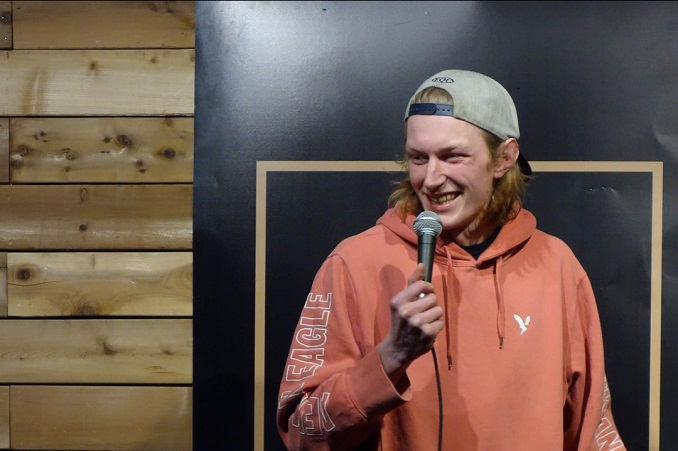 How would you describe your comedy style?
Observational with a focus on being silly. I try to stay out of politics, I've never cared to speak on touchy social issues on stage. I just want to make people laugh and enjoy some of the absurdities of life.
Who are some of your influences?
Norm Macdonald and Martin Short come to mind for different reasons. Norm always had a way of staying silly and never taking himself too seriously in his comedy which I always admired. Martin Short opened my eyes to the world of sketch comedy with his physicality and ability to take on a character. Saturday Night Live also taught me a lot about comedy between the skits and the close-to-stand-up style of weekend updates.
Who was your favourite comedian growing up?
Jim Gaffigan and Demetri Martin. Both were common in my house and on road trips growing up. My older brother was the one who brought the names into the house but my parents let them stick around because they were always relatively clean.
Who is your favourite comedian now?
Mark Normand by a good stretch. His ability to hit punchline after punchline in quick succession is something I highly admire. His pace and presence on stage are unmatched in my opinion.
What is your pre-show ritual?
I have tried to stay away from anything too specific. I used to try and judge the crowd before the show and change my jokes based on what I assumed they would like and I was always wrong and left wishing I had stuck with my original setlist. I like to just go up and perform and stay in the moment as much as possible.
What is your favourite place you have performed? Why?
I've been very fortunate to have gotten up on many different stages and I could list ones near to my heart for days. One that has always stood out to me is Good Times in Lethbridge Alberta. The room felt small in a good way, the kind of place where if you can get the crowd going the laughter gets beautifully loud. Local to Calgary I get the pleasure of performing every Saturday as a guest at The Comedy Cave. It feels like home there.
What is your favourite bit you have written and why were you proud of it?
My mom always taught me not to pick favourites even though my brother is the only name in her will, so I guess it's okay. One of my favourite jokes is about online therapy. It involves a physical portion and I always enjoy pushing myself to be more physical on stage. I feel it's something people can relate to without being too serious, you can laugh at some of the uncomfortable parts of therapy while still getting to laugh at me.
What is your favourite medium for listening or finding new comics/comedians?
The internet has helped comedians get exposure and has been a great tool to find new acts. I am very fortunate to be friends with a lot of comedians so I can always rely on their recommendations and find great comedians through friends.
Tell us a joke about your city.
I've seen a lot less "I *heart* oil and gas" stickers since prices have gone up. I saw one the other day that just said "It's complicated" and the little oil drop was actually a teardrop.
Do you have anything to promote right now?
I recently headlined the Beaumont International Festival, and there are a lot of exciting new shows being created locally! My social media is a great way to find out what's happening and stay up to date.
Where can we follow you?
I am most active on my Instagram, but I'd like to add my LinkTree, where the Postgame Overtime Podcast is available.
PAY IT FORWARD: Who is another local comic/comedian we should know about?
Some of my favourite comedians at the moment have to be Erin Wood and Zac Wiggins. They host an amazing show in town every Wednesday at Verns and are fast on the rise! Be sure to catch them locally before they are across Canada touring.