All things cats and only cats. At MEOW we spoke with a long time, committed member Debbie Nelson about the Foundation. This is a real feel-good, make a difference, loving charity with the purrfect rewards.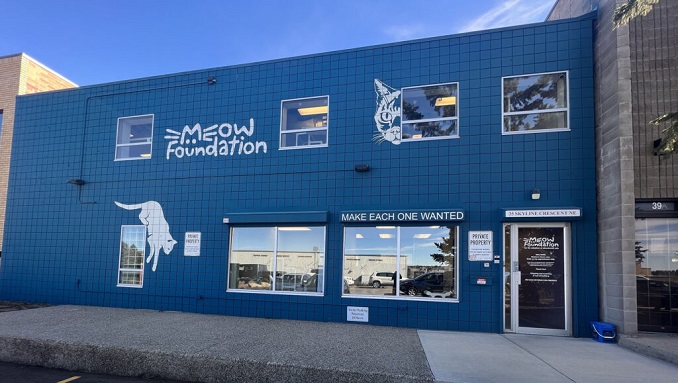 Describe your charity/non-profit/volunteer work in a few sentences.
Established in 2000, MEOW Foundation is a cat-specific registered charitable organization and humane society with a no-kill mandate. MEOW is the only organization in Calgary that offers four foundational programs.
– Rescue and Adoption provides food, shelter, and medical care to stray and abandoned cats in Calgary and facilitates their adoption into new, loving permanent homes.
– Subsidized Spay Neuter Assistance Program (SNAP) for Calgarian's in-need to assist with the cost of spay and neuter.
– Trap Neuter Return (TNR) Program for feral cats.
– Cat Food Assistance (CFA) is a temporary support program if you are in need of cat or kitten food.
What problem does it aim to solve?
MEOW works to provide solutions to cat overpopulation by provision of humane programs and services to provide spay and neuter surgeries for felines in need.
When did you start/join it?
MEOW was formally incorporated in 2000 and I am a founding member.
What made you want to get involved?
In addition to a personal love and passion for the welfare of cats, it was the knowledge that cats are the most numerous, most neglected and most needy companion animal world wide.
What was the situation like when you started?
In 2000 there were many more (thousands) of unwanted cats in the city each year.
How has it changed since?
With the formation of MEOW, all our programs, whether rescue and adoption, Trap Neuter Return (TNR) or Spay Neuter Assistance Program (SNAP), spay and neuter services have been at the heart of everything we do. Since our formation we have adopted nearly 15,000 cats, but we have also provided 25,000 Calgarians with spay and neuter surgeries for their pet cats. While the number of requests for assistance remains high, MEOW is no longer seeing the same number of free roaming and abandoned cats.
What more needs to be done?
Our work and program focus will continue, combined with advocacy, education and continued research to target and deliver the assistance needed for Calgarians and the thousands of needy felines each year.
How can our readers help?
Readers can help in many ways. There are always opportunities to volunteer at our Adoption Centre, the MEOW Charity Thrift Shop, Regal Cat Cafe and to foster moms and kittens or special needs cats.
We welcome donations of supplies via our amazon wish list, donations of goods to our Thrift Shop and of course, financial donations are most welcome to cover our extensive medical costs each year.
Do you have any events coming up?
On May 19-21, 2023 MEOW will be the charity of choice at Otafest, an annual conference for anime enthusiasts. Our market team will be on-site selling MEOW merchandise.
Where can we follow you?
Website | Facebook | Twitter | Instagram | TikTok
PAY IT FORWARD: What is an awesome local charity that you love?
MEOW loves and collaborates with the Canadian Animal Task Force (CATF). CATF hosts spay and neuter clinics on First Nations, but they also have a cat management program designed to help struggling Alberta municipalities with spay and neuter for their free-roaming cat populations.