Antyx Community Arts is a Calgary-based local non-profit. Their goal is to provide the youth of Calgary aged 12 to 18 with free access to arts-based programs and introduce them to different avenues of expression and creation. We spoke with Ashleigh Imbery, Communications Coordinator to learn more.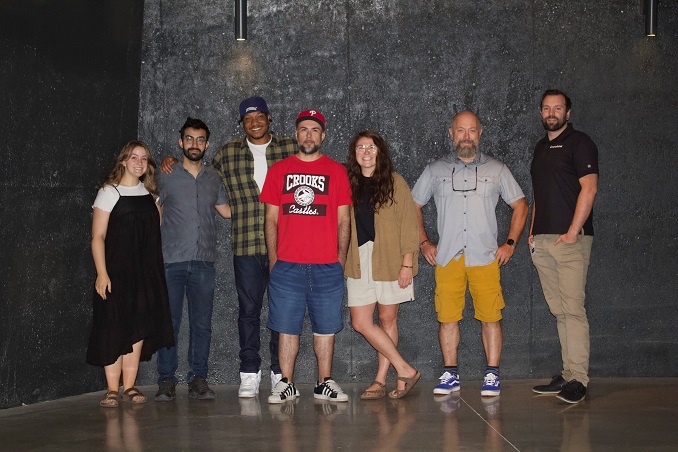 Describe your charity/non-profit/volunteer work in a few sentences.
Antyx Community Arts is a unique non-profit that works in communities across Calgary to provide free, arts-based programming for youth aged 12-18. Antyx uses the arts to engage youth and spark their curiosity and commitment to the world around them while learning prevention skills and lifelong therapeutic tools. Our community arts projects are focused on addressing youth-identified community issues as well as personal development, and voice/identity expression. The arts are used to build community capacity and to creatively and critically engage youth in a process that addresses important community issues. Our work focuses on engaging youth in their communities, schools and neighbourhoods, in a positive way!
What problem does it aim to solve?
Antyx aims to solve multiple problems. Historically, we've focused our efforts in lower-income communities with at-risk youth which led to our mission of breaking down barriers to provide youth with free and safe spaces to express themselves, therefore, using our programs as a preventative solution rather than relying on intervention strategies. We use the arts as a medium for safe expression, incorporating Social Emotional Learning Concepts to guide healthy conversations between facilitators and youth. In turn, this influences our program themes and direction to what the youth identify as community issues. We're then able to use community development processes to tackle these issues and create opportunities for youth to become more engaged in their community and experience increased community connection. We're also excited to show youth that the arts are a viable path for the future! We want them to see that there is space for them in the art world to pursue a career and that there are opportunities to use their art to make change.
When did you start/join it?
I started my journey at Antyx at the beginning of 2020 for a Community Service Learning project while attending Mount Royal University, and officially joined the team full-time in 2021.
What made you want to get involved?
What made me want to get involved with Antyx was seeing the direct impact that the team was making on the youth in Calgary communities. When I first started, I attended one of the programs at the time, What Feeds Us, and was blown away by how passionate the youth were about developing solutions surrounding food insecurity in their community and hearing their individual ideas while operating as a collective. The programs allow youth to make tangible differences which keeps them coming back, growing within and beyond Antyx. I knew I wanted to be a part of this team to share these youths' ideas and successes while also highlighting Antyx and its facilitators' unique approach to community-identified issues through various art mediums. I'm reminded with each youth-led project of why I'm continually excited to be in this role.
What was the situation like when you started?
When I started, Antyx was full throttle in planning summer programs which was an exciting, creatively chaotic environment. However, that was when COVID-19 took over and we had to move programs online. It was a trying transition, and our programs suffered attendance numbers due to various barriers like accessibility to computers, the loss of in-person connection, and not to mention just the general stress of existing during a pandemic. While it was a change, we were able to adapt and still complete amazing projects such as our multi-panel mural currently installed at Bob Bahan which was done by delivering individual panels to each youth's home. It gave us the opportunity to focus on themes of connection in a heavily digital world and explore what that meant to us individually, as a group, and as a community.
How has it changed since?
A lot of changes have happened since I've joined Antyx. We've moved our office location to Contemporary Calgary, welcomed team members and a new Executive Director, and created a new line-up of programs! With our headquarters in the SW, it's given us the chance to expand our location offerings, now ranging from Falconridge and Greater Forest Lawn to Downtown West End and East Village. Our facilitators have also recently developed 10-week lesson plans which have an increased focus on Social Emotional Learning concepts and allow for more end-of-program projects.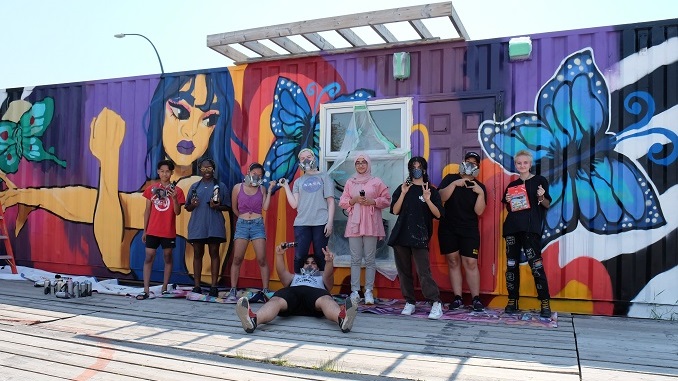 What more needs to be done?
Our biggest barrier right now is reaching more youth. Covid affected our ability to continue our in-person outreach, and as a non-profit, we don't have a large advertising budget to fill that gap. Luckily, we've been able to get more face time at schools and events, but we still have the capacity to take on about 10/15 more youth for each program we provide.
How can our readers help?
We'd love it if the readers could help spread the word about Antyx! Word-of-mouth referrals are so important in providing trust and credibility for the organization. Keep up with us on social media to join us at our community events and support our youth! Also, we are currently accepting donations through Shaw Birdies for Kids presented by AltaLink, they will match up to 50% of all Donations to Antyx! We receive 100% of donations to Antyx, which go directly to supporting our mission to provide free programming for youth. We are grateful for any donation that we receive!
Do you have any events coming up?
As of right now, we don't have any community events with a planned date, but our summer programs have just started, and registration will be open for another four weeks! We have six programs being offered, with multiple locations and weekday options to choose from. Our programs include Youth Arts Action, Antyx Monday and Friday Hip-Hop Club, Antyx Cypher, The Film Lab and Contemporary Kids and Teens.
Where can we follow you?
Instagram | TikTok | Facebook | Twitter | Website Calendar
PAY IT FORWARD: What is an awesome local charity that you love?
An awesome local charity that we love is CIWA (Calgary Immigrant Women's Association)! CIWA does amazing work in Calgary, offering more than 50 programs which support immigrant and refugee women, girls and their families with settlement needs, language and employment training, family matters and much more. We've collaborated with CIWA many times in the past to bring new programs to youth and work on community projects together. We highly recommend supporting them in any way you can!