The Establishment Brewing Company is a Calgary brewery and taproom. We spoke with the owners, Dave Ronneberg & Mike Foniok, to find out more about them.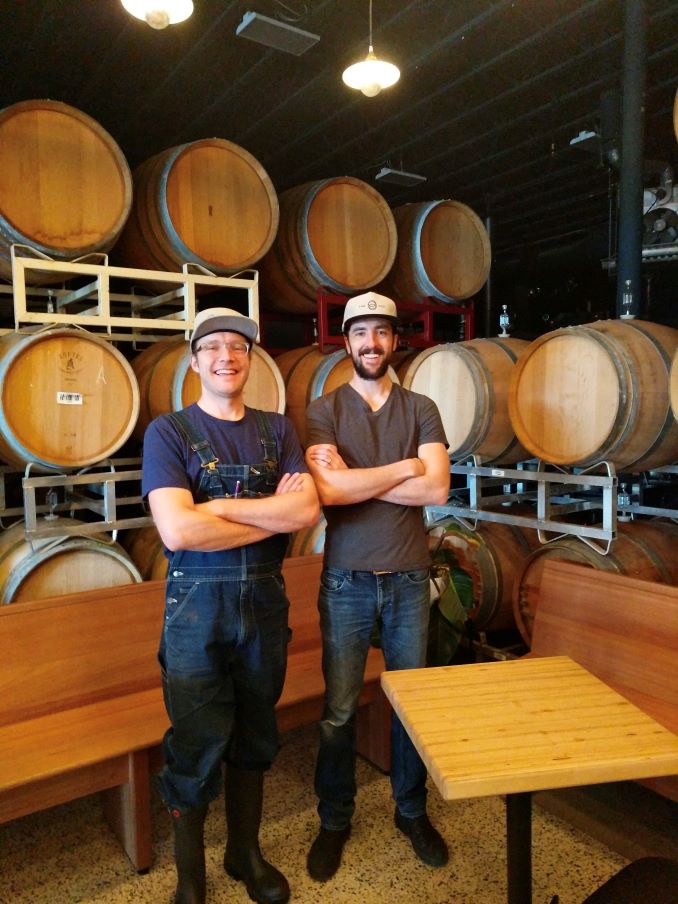 What is your business called and what does it do?
The Establishment Brewing Company is a brewery and taproom located in Calgary's Manchester Brewing District – an area perfect for brewery-hopping and was recently named Canadian Brewery of the Year for 2021 at the Canadian Brewing Awards. We brew flavourful and highly drinkable beers, from barrel-aged sours to hop-forward ales, European lagers, and everything in between.
What made you want to do this work?
Really, it started with a bunch of beer-loving friends who were also very talented homebrewers and the home that they brewed in. Three of our founders, Mike, Dave and Brandon, each had over a decade of experience homebrewing. Mike, our Head Brewer, had over 100 Canadian homebrewing awards under his belt and was a top homebrewer in Canada in 2016.
The name 'The Establishment' is a nod to Mike's old house in Erlton where we often gathered to try the latest homebrews. We referred to the place as The Establishment after a sign that was propped up in the window. It was Brandon who found The Establishment sign on a snowboarding road trip and propped it up in the window. Everyone agreed it suited the place and the name stuck.
It was also the place where, after the devastating flood in 2013, a gutted basement led to a new expanded home-brew system, complete with a yeast lab, and tipped a homebrewing hobby into obsession territory. So, we'd all hang out and drink these amazing homebrewed beers that tasted better than anything we could buy, and half-joke about how we should just start our own brewery. And then it got real when Mike decided that he actually wanted to make a go of it. So we teamed up, got a business plan together and made it happen.
The original Establishment has long since been demolished, but its memory lives on in our taproom where friends (old and new) are always welcome and great beer is always on tap.
What problem did you want to solve with the business?
Our true love is barrel-aged wild beers, and we wanted to bring attention to this style and introduce people to the wide array of new flavours that this style can bring since it's not a commonly brewed beer style in Alberta.
You'll see when you walk into our space that we have almost 100 barrels surrounding the taproom and brewery. These barrels are full of wild and sour beer creations that can take anywhere from 3 months to 3 years to mature.
Our barrel-aged wild beer program is inspired by old-world techniques and new-world styles, using traditional methods of ageing beer that are great for developing sour beers in particular. Part of the uniqueness of the program is that they use their own wild yeast cultures which have been developed and maintained over the years. The barrels allow our wild yeast cultures a place to thrive and develop sourness and complex flavours. Then when ready, the beers get packaged into bottles and each release is paired with a unique design from a local artist.
Who are your clientele/demographics?
We are a band of friends and beer fanatics, united by one common goal: the proliferation of friendship and great beer. Our objective is to craft world-class beers, while never forgetting a beer is only as good as the friends you enjoy it with, so we try to focus on creating a brewery and taproom that welcomes equal parts good people, great music, and awesome beer. We also love to work with other local beer stores and restaurants & bars. Anyway, if you consider beer your friend, we count you among ours.
How does your business make money? How does it work?
We have a taproom in the Manchester Brewing District, where people can come by to enjoy our beers on tap, as well as pick up off-sales or for growler fills. All of our beers are available outside of the taproom as well, in many locally-owned craft beer stores, restaurants, and bars.
Where in Calgary can we find your profession?
We brew all kinds of flavourful and highly drinkable styles that can be found pleasing palates across Alberta in local beer stores, on tap at bars and restaurants, as well as from our taproom in the Manchester Brewing District. We have a complete list of all our partners on our website.
What is the best question a prospective customer could ask a member of your profession when comparing services? Give the answer as well.
We love to hear from our customers about their own palate. This helps us find the best beer for them, and we love showing them the balance of finding a classic style that they enjoy while also pushing the limits to try new styles that they might like.
What is the best part about what you do? What is the worst part?
The best part is the creative aspect of brewing. Being able to dream up fun and delicious beers, and working collectively with a passionate team to make it happen. Sharing that excitement with others that are equally passionate is truly gratifying.
The worst part is staying up all night worrying about the details too much!
What is your favourite joke about your own profession?
There are no jokes in this profession! Beer is super serious, no fun at all. But in all seriousness, it's a really fun job. I think our favourite joke would have to be: Brewing is actually just glorified janitorial work; 70% cleaning and 30% spilling. A joke, but also 100% true!
PAY IT FORWARD: What is another local business that you love?
We love all of our fermented beverage neighbours in the Manchester area. Uncommon Cider Co, Annex Ale Project (they are next door to us!), Confluence Distilling, Cabin Brewing Company, City & Country Wine, and Born Colorado Brewing.