After a 45 year career as a School Counsellor and Teacher, Cheryl Wowk recently launched EQ Evolution Inc. Her company offers a variety of programming designed to help students grow their Self Esteem and Emotional Intelligence, such as online extended lesson plans, behavioural consulting services and her debut children's book Super Miraculous Me.  We caught up with Cheryl to learn more!
What is your business called and what does it do?
EQ Evolution Inc. (EQ Evolution) is a program designed for adults to help children grow their Emotional Intelligence and create healthy relationships with themselves (Self Smarts) and others (People Smarts). The foundation of this curriculum is Super Miraculous Me! a children's book written by Cheryl Wowk, the founder of EQ Evolution. The book uses interactive, bodily-kinesthetic techniques to reinforce the learning and make it fun. The themes of self-esteem, purpose, self-regulation, accountability, responsibility, growth mindset and self-control are presented in a way that is easy for kids to understand, by using words and phrases they can relate to. EQ Evolution develops resiliency in a hands on experiential way. Kids learn about decision making and social responsibility in a manner that makes sense to them. EQ Evolution offers a full social/emotional skills development curriculum, complete with behavioural consulting service. Website:
What made you want to do this work?
As a teacher and school counsellor, I was fortunate to spend 45 years working with students in Elementary, Middle and High School. The majority of my time was spent with at-risk youth who experienced a variety of emotional and social behavioural difficulties. The kids were my best mentors and taught me countless valuable lessons. I learned that even though my belief is that every child is born a unique, precious, one of a kind MIRACLE, kids share common issues. I discovered that I could be more effective working with large groups of students teaching them tools for success to build resilience and encouraging them to unleash their own inner superheroes to tackle life's challenges.
What problem does this solve?
EQ Evolution is a self development program focusing on empowerment. It takes students on a journey of self-discovery where they grow the self esteem necessary to be confident and independent individuals capable of building successful connections with others. This empowerment process teaches that we each have the superpower of "CHOICE" and we can control our ability to make positive choices that feel good and make things better on our own without external motivation. This is represented within the book, Super Miraculous Me! as being a YIPPEE not a YUCKIE.
Who are your clientele/demographics?
EQ Evolution is a valuable asset to use in elementary classrooms (ages 5 – 10), homeschool situations, or working with kids in a therapeutic setting. Also, parents, grandparents and caregivers would find this a great way to interact and build rapport and skills alongside their own little "miracles"!
How does your business make money? How does it work?
EQ Evolution generates income via book sales of Super Miraculous Me!, purchasing the Online Training Program, workshops and Behavioural Counselling Consulting services.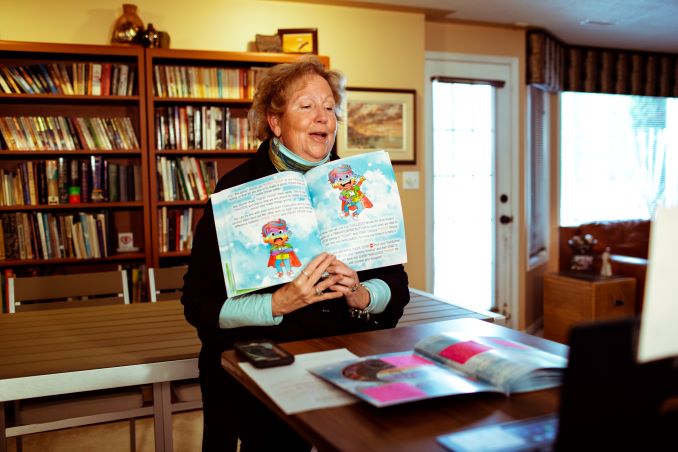 Where in Calgary can we find your profession?
School Systems, Mental Health Treatment Centres, Behavioural Consultants, Child Therapists/Counsellors
What is the best question a prospective customer could ask a member of your profession when comparing services?
In terms of qualifications, what is your "hands on" experiential background knowledge working with children based on?
The question pertains to "book learning" versus actual working in the trenches so to speak. What I discovered early on in my career teaching and counselling kids is that they haven't read "the books" and don't necessarily follow the rules. This I learned to be true when I had children of my own. Every child is unique and what works with one doesn't necessarily work for another. What works today, might not work tomorrow. Often, it is necessary to think outside the box and be creative! Almost always it will be the connection, the bond, the relationship formed which will determine whether or not the outcome will be a success.
What is the best part about what you do?
The best part of what I do is interacting with the kids, their families and the staff. I am fascinated by what each child is passionate about. All behaviour serves a purpose and is a form of communication. My passion is solving the puzzles and helping the adults and kids create win/win scenarios with themselves and others.
What is the worst part?
The worst part is when the kids or adults don't see in themselves what I see in them. Every child is born for greatness and has a purpose in this world. I have an intuitive ability to feel their gifts and it hurts when they don't believe in themselves and understand that they are precious miracles worthy of being treated with dignity and respect.
What is your favourite joke about your own profession?
My favorite joke about my own profession is that we are all doing it for the money.
PAY IT FORWARD: What is another Calgary business that you love?
Andrea Kosa Physiotherapy Services