Allan David Bespoke Tailoring is a traditional, in-house tailoring shop. We spoke with Allan Sinclair, the owner, to find out more about them.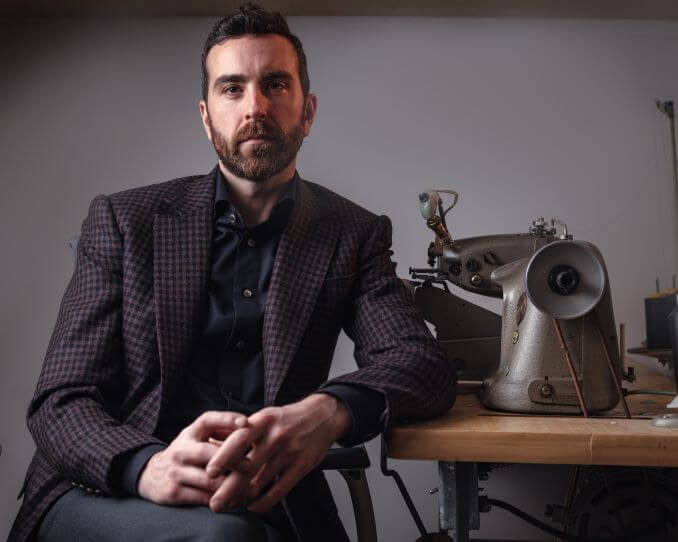 What is your business and what does it do?
Allan David Bespoke Tailoring is a traditional, in-house tailoring shop. The appeal is that every garment is unique and fitted perfectly for each client, both male & female.
The clothing is entirely handcrafted – from the initial drafting, cutting, and then construction. The final product is, of course, the highest quality garment that will last a lifetime.
What Made you want to do this work?
After working in high-end menswear for several years I grew dissatisfied with the 'idea' that we were selling. Most retail sales associates selling high-end suits have very limited knowledge of the product their selling, which most often is not of high quality. In all honesty, the truth behind off-the-rack luxury brands is dismal.
I had the desire and the drive to learn about the craft itself – the construction of the garment from beginning to end. This led me to enroll in Costume Studies at Dalhousie University and then go on to apprentice with a Savile Row-trained tailor in the United Kingdom.
What problem do you want to solve?
Clothing in our modern-day is primarily off-the-rack, which entails a poor fit for most people; low construction quality; and extremely poor manufacturing & sustainability practices. I think this has ultimately led to people caring and connecting less to their clothing. When if fact, what we wear should feel good, like an extension of ourselves and our body. I am providing my clients with the rich and unique experience of true bespoke tailoring.
The end product is made from the highest quality & sustainably milled fabric from both Europe and the UK; top craftsmanship and care put into the clothes; and of course, a perfect fit. This truly is a purchase to feel good about.
Who are your clientele/demographics?
I get a full spectrum of clients. From grooms & groomsmen who want a unique piece to wear at their wedding, to people established in their careers wanting to elevate their wardrobe.
I also have clients whose bodies significantly differ from off-the-rack sizing, and simply want a piece that genuinely fits. I do offer women's tailoring as well.
How does your business make money? How does it work?
I recommend clients book a free initial consultation where we discuss their tailoring needs and determine exactly what they want. We have a chat about the garment and its purpose, and of course, pick out the cloth. I have a diverse selection of fabric sample books from high-end mills across Europe and the UK.
If they choose to commission a piece from me there's a deposit upfront to get started and then a final payment upon delivery of their finished garment.
Where in Calgary can we find your profession?
You can certainly find menswear shops, as well as 'tailors' (aka alteration shops) all across the city, but when it comes to genuine bespoke tailoring, so far I am the only one.
There has been a misuse of the word bespoke in recent decades. More often than not, the suit is 'made-to-measure'. In this case, basic measurements are taken and then, from a standard pattern the manufacturing happens elsewhere & with cheap labour.
A genuine, bespoke garment is exceptional in that it involves true, skilled craftmanship – from pattern drafting, one-on-one fittings, the best of material, and the highest level of construction.
What is the best question a potential client could ask when comparing services?
To be fair there are a few: Who makes your suits/clothing? How are they made? Where are they made? How long does it take? What is the price?
If you're after a genuine, bespoke garment it's integral to know where, how, and who is making the clothing. If they are not personally making your item, then can you meet the person who is? If they are not making it onsite, then where? If it's not being made in-house it is likely not bespoke.
Bespoke garments take a long time to make and are very labour intensive. A genuine, bespoke two-piece suit takes a minimum of 80 hours of labour. It may seem like a crude metric, but the price can be a key indicator. Price needs to reflect the time spent crafting each item. If it seems too good to be true, it probably is.
What is the best part about what you do? What is the worse part?
The best part: The excitement and joy it brings to someone the first time they have a bespoke garment made. I love to hear stories of how they cherish a piece and how it makes them feel.
The worst part: Human error is a real thing. Mistakes can happen. What's important is how one deals with and moves on from their mistakes. If I need to remake a garment, then so be it. I always make sure the client gets exactly what they ordered.
What is your favourite Joke about your own profession?
There's an old comic of a tailor on the stand during a trial. They're being questioned by a lawyer holding a suit. The caption reads:
"When pressed, the tailor, a material witness in the suit, came apart at the seams. His altered testimony completely unravelled. The tale he had woven had been a complete fabrication."