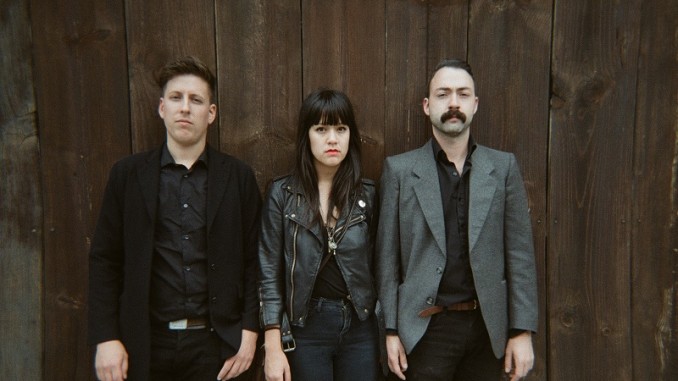 BIG|BRAVE along with good friends Maica Mia will be winding down POP Montréal's POP Off Tour I in Calgary this week with a series of shows at the Sled Island Music Festival on June 24, 25, and 27. Comprised of Robin Wattie, and Mathieu Ball on guitar, and backed by Louis-Alexandre Beauregard on drums, they are a down-tempo, heavy-hitting battering ram of post-rock noise and tension, that is punctuated by Robin's vocals.
In 2012, roommates Robin and Mathieu were looking to explore new musical directions provided by their current folk project. To round out the three-piece that was to become BIG|BRAVE, they brought in Louis who Mathieu had met "through music — not playing music together, more seeing shows and then eventually seeing each others bands," Robin recounts. They released their debut EP An Understanding Between People in 2013 and followed that up with their first full length LP, Feral Verdure, in 2014. Within three years the band has already shared the stage with some pretty big acts, including Low and Thee Silver Mt. Zion. As Robin explains, this good fortune has not come without a lot of dedication to their work. "We've worked really, really hard to fine-tune our sound and really work on our craft. Then we've just sort of put our necks out there and asked people about playing shows with them and we've been very lucky to fall upon some very generous, music-loving folk."
This impressive list of music-loving folk continues to grow as they were hand picked by 2015 Sled Island curators, Godspeed You! Black Emperor (GY!BE) to join them in Calgary this week. BIG|BRAVE echo this gratification and respect. For Robin, "the fact that they (Thee Silver Mt. Zion, GY!BE) even support us enough to invite us to play shows with them is such an incredible honour and so, so incredibly motivating and affirming." While extenuating circumstances have kept BIG|BRAVE off of the Sled Island lineup in years past, the invitation from fellow Montréal post-rock natives was impossible to resist. "This year we had to make it because Godspeed was like 'if it works for you would you want to?' And we were like 'what are you talking about? I don't care, we'll make this work! This is such an honour!'"
Sled Island will mark a return of sorts for Alberta-born Robin, who is really excited see friends and take in what the city has to offer. "We just want to be in Calgary and experience anything and everything we can [laughs]." Not the least of which is to take in the festival. Robin lists picks including "Body / Head, Drive Like Jehu, Lightning Bolt" before adding "oh my gosh, I don't know, there are so many. Like every single one of them! This lineup is pretty exceptional, which is just another reason why we made such a huge effort to make a point of coming."
Following the festival, BIG|BRAVE will be focusing on the release of their upcoming album Au De La on Southern Lord Records, which will "be released late September, early fall" followed by a cross-Canada tour, which the band hopes will take them into British Columbia.
You can catch BIG|BRAVE June 24 in the Local 510 parking lot, June 25 with GYBE at the Central United Church, or June 27 at the always entertaining #1 Legion, downstairs.