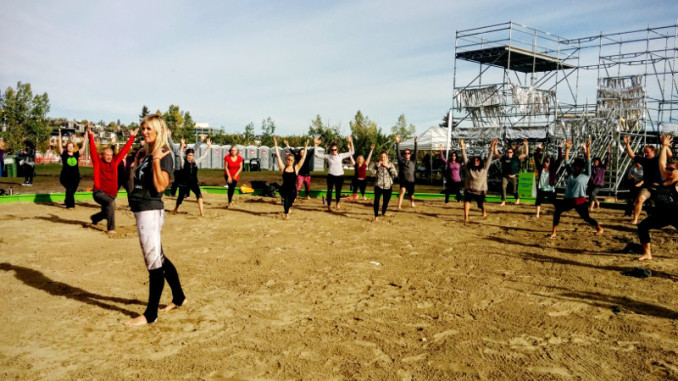 Lying with my head in a sandpit in Fort Calgary, I couldn't help but ask existential questions like how did I get here? Why did I decide this was a good idea? The answer to those questions is Beakerhead. Beakerhead is a festival that combines science and other disciplines like art every year in September. A lot of people mention to me that they never know what to do when Beakerhead comes along. There is always a huge selection of events to choose from and the events are Calgary wide, so you really have to be selective. This year they had a few fitness related offerings, and one of them was Happiness Hour.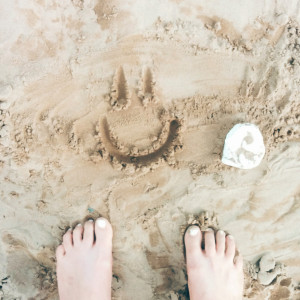 The event organizers of Happiness Hour (Yoga in a Sandbox) bravely decided to create a giant outdoor sandbox for us all to romp around in. Luckily, no rain interfered with the sandy fun. A few other events were going on around us at the Fort Calgary location, notably the giant claw crane that required a team of at least 2 people to operate.
No yoga mat was needed for this event. Instead, we all took off our shoes to feel the sand between our toes. The event was originally supposed to have two different people there to guide us through our relaxation process, but unfortunately the psychologist who was supposed to offer the mindfulness portion was not able to attend. We did have the yoga instructor, a lithe woman by the name of Amarin Dawn from Yoga Within the Heart studio in Bragg Creek.
Amarin said that we should view yoga with an experimental mind, meaning that we should pay attention to what we were doing and how that made us feel. The routine involved some downward dog and twists, which made it too difficult for one older woman who was trying to follow along beside me. She managed to modify the positions for a while but eventually she had to leave. Even though yoga is supposed to be a relaxing and easy exercise, the positions can be quite challenging for people with joint or balance issues. However, everyone else managed to follow along with the routine and enjoy themselves.
The most interesting poses were the ones that involved lying down on the ground or putting our heads into the sand. It was interesting to compare my aversion to getting dirty with the release of letting go. After all, would the child version of me not want to get a little dirty in a sandbox?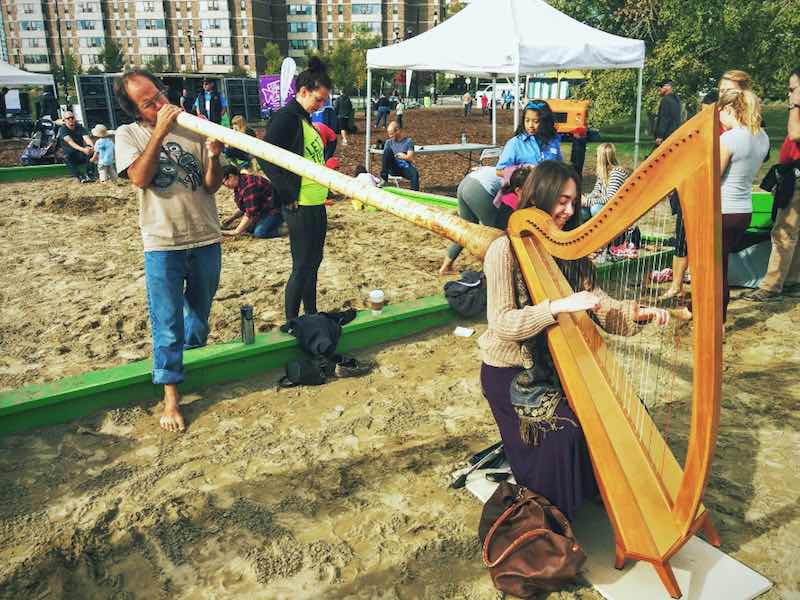 The entire atmosphere at the event was rejuvenating and renewing. They hired a harpist by the name of Emily who serenaded us with relaxing music. We also had some nature sounds played on the sound system. Overall, I enjoyed the unique experience of a yoga class in a sandbox, and if they have it again next year, I would recommend you check it and the other events going on at Beakerhead.