After an ex-girlfriend wrote "You're the King!" in Dylan's high school yearbook, this dinosaur-loving, gangsta-rap-bumpin', athletic, band geek born in Northern Alberta finally found his stage name for his Alternative Hip Hop act. Years later and living in Calgary, the ever eclectic King Dylan has channeled his oddities into the pop-driven melodies and deep, personal storytelling involved in his music .
King Dylan's "Play That Song Again" (2018) is the newest song and video release that tells the story of his late father's passing after a battle with cancer and the songs and memories that remind us of lost loved ones. It is the first single from his upcoming 10-track album: In The Darkness, We Can Shine – "I tried to explore my production with an acoustic guitar on every track after getting advice from my friend Kevvy (Fake Shark) to focus my sound a bit more, and the songwriting came naturally after having a rough year, personally," The dynamic, self-produced project is familiar to the ears of Twenty-One Pilots, Beck, and Mike Shinoda, finding its balance between acoustic guitar and piano.
In 2018 King Dylan's song and stop-motion Lego video, "Untouchable", was a Winner for Best Music Video at the 16th Annual Independent Music Awards; winner of the Best Music Video in the 2017 ISC International Songwriting Competition; and Pop Recording and Music Video of the Year at the 2017 Calgary Music Awards with a nod for Hip Hop Recording of the Year and Video Director of the Year nominations at the 2017 Western Canadian Music Awards. The song also placed 2nd in the Stagelight Monthly song contest from Linkin Park and Open Labs, received radio play on CBC Radio 1 and video features in the Calgary Herald and The YYScene.
During King Dylan's musical career he has performed at showcases and festivals like Canadian Music Week (2013), Mighty Peace Day (2013-2017), Blank-Fest (2013) Lilac Fest (2010), and also was one of the winning recipients in the Amp Radio Rockstar competitions in Calgary (2012). He has also recorded with Juno Award winners Swollen Members' Moka Only "I Still Fly" (2010) and Econoline Crush's Trevor Hurst "Hope" (2014) and shared the stage with acts such as Sonreal, Swollen Members, Dear Rouge, Tyler Shaw, Shawn Desman, Tenille Townes, and Neverest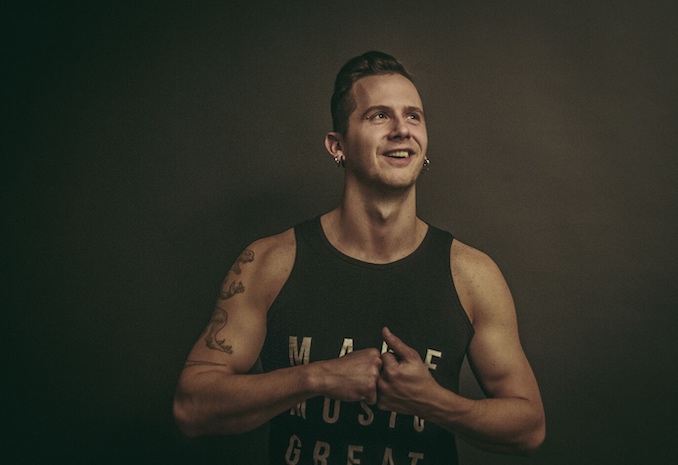 Name: King Dylan
Genre: Alternative Hip Hop
Founded: 2000
# of Albums: 10
Latest Release: Die Tomorrow (2017) is my latest album. New one coming in June
Latest Single: "Play That Song Again" (June 2018)
Latest Video:
Favourite Local Restaurant:
The one with the best food that I like.
Favourite band as a teenager:
Probably a tie between Westside Connection and Weird Al
Favourite band now:
(This is the hardest question ever.) A few that have been a favourite, depending on the mood: Pink Floyd, Tech n9ne, Shinedown, City and Colour, Eminem.
Guilty Pleasure Song:
Kesha – Rainbow
Live Show Ritual:
drink tea, vocal warm-up & stretches, high leg-kicks, tank tops, jean shorts.
Favourite local artist:
That's tough, but right now I'm digging Mindseed (I could be bias because of the collaboration on my upcoming album)
Nose Hill or Fish Creek?
Nose Hill because I've never been to Fish Creek
EP or LP?
I like a solid L.P. with lots of variety and a good Road Trip worth of songs
Early bird or night owl?
Night Owl, that's when my best creative work gets done!
Road or studio?
Love both equally for different reasons. The Road because I get to escape town and meet new people. But I love the studio because the creation/recording process is too magical
Where can we follow you?
Facebook | Twitter | Instagram | YouTube | Spotify | Soundcloud | Website
Any shows or albums coming up?
Why yes, I have my new album release on June 1st at The Rec Room.