Hi friend!
My mom's name is Spirit so it only made sense to call me Alizé. I have 3 brothers and grew up with them along with another litter of 6 the same age-and we all kind of look alike too! I love my life and try to show my foster mom every day that I'm just the sweetest little dude. She loves my "eyeliner" and says that it makes me look very majestic… whatever that means! I love a good petting, chilling and watching TV with my human, playing with whatever toy is handy, and boy do I ever enjoy a good climb! You'll be impressed with all of the adorable stuff that I can do!! Manis and pedis aren't my absolute fav but im told I'll get used to it eventually. I'd love to meet you and hopefully you can bring me home, love me and let me love you…I promise that I'll always be close by ready for a snuggle match or game of rugby. Just kidding! How about a tickle match instead? xoxo Alizé
Alizé was born May 10, 2018 and is great with kids.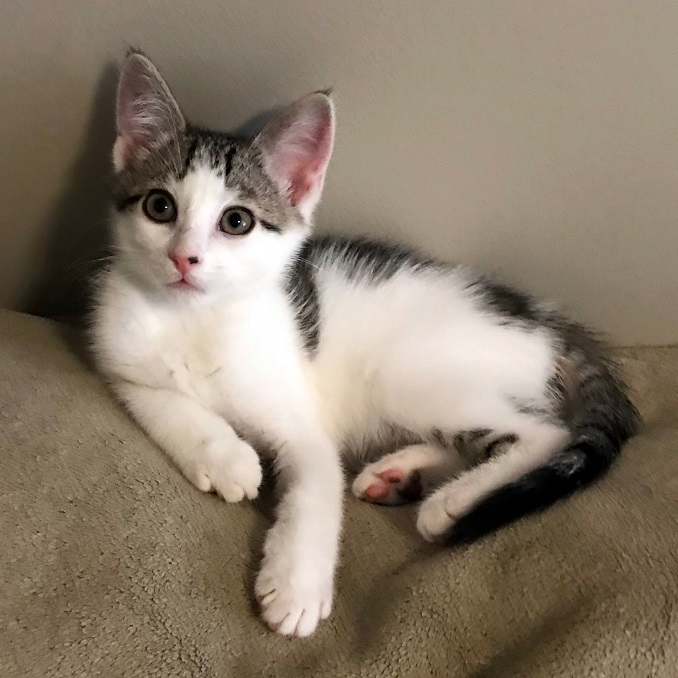 Alizé
Breed: DSH
Age: 6 months
Gender: Male
Color: Black/White
In order to ensure a smooth and successful adoption, please remember to check all the basic requirements for adopting before coming in to the shelter.
About this column:
Each week we feature animals available for adoption from local shelters in the Calgary area with the hopes that our readers will assist in finding good homes for them. If you, or someone you know, has the resources to take care of one of these animals, please do get in touch with the appropriate shelter via the links provided.