Third Chamber is comprised of several musicians with a long history in Calgary's metal scene (Featuring current members of Culled, After Earth, Meddigo, False Flag and former members of Thorazine, WAKE, Disciples of Power, Exit Strategy, We Found the Body & Razorwing). The quintet is cooking up a new, yet familiar death metal sound that will nourish even the pickiest of metal enthusiasts.
With death being the main ingredient in their metal melting pot, hints of grindcore and hardcore also stand out amidst flavours of politically charged lyrics. THIRD CHAMBER is not music for the soft, besides being musically ferocious, the lyrical content is a brutal reflection of the current state of the world. From negative motivations of religious organizations, the effects of social media on mental distress, the ever-growing pride of ignorance, the exploitation of our natural resources for the profit of the wealthy and the manipulation and lack of actual truth in most media consumed by the ever-growing bewildered herd.
Recently, THIRD CHAMBER  self released their debut five-track EP, "Harvesting Our Decay" on Limited Digipak CD, Limited Cassette as well as on numerous, digital platforms such as iTunes, Amazon, Spotify and Bandcamp.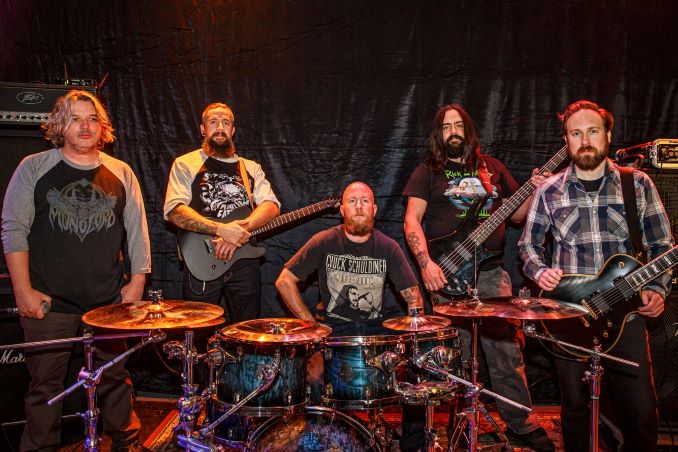 Name(s):
Dustin – Drums
Jamie – Guitar
Jay – Guitar
Russ – Bass
Shane – Vocals
Genre: Death Metal
Founded: 2016
# of Albums: 1
Latest Release: Harvesting Our Decay
Latest Single: Harvesting Our Decay
Latest Video: 
Favourite Local Restaurant:
Dustin – RIPS pub and eatery
Jamie – Red's Diner
Jay – Palomino
Shane – Hearts Choices
Favourite band as a teenager:
Dustin – Blink 182
Jamie – Pantera
Jay – Metallica
Shane – Iron Maiden
Favourite band now:
Dustin – Mors Principium Est
Jamie – Rivers of Nihil
Jay – The Black Dahlia Murder
Shane – Napalm Death
Guilty Pleasure Song:
Dustin – Katie Parry – Firework
Jamie – Any and all 80's
Jay – Madonna – Express Yourself
Shane – Bee Gees – Staying Alive
Live Show Ritual:
Jamie – Max 2 beer, bit of food, stretch, set run through on guitar. One hoot. Maybe two 😉
Jay – Beer and a Toke
Shane – On the spot meditation
Favourite local artist:
Dustin – Eye of Horus
Jamie – Culled
Jay – Bloated Pig
Shane – Gone Cosmic
Nose Hill or Fish Creek??
Dustin – Fish Creek
Jamie – Fish Creek
Jay – Fish Creek
Shane – Nose hill
EP or LP?
Jamie – Both!
Jay – LP
Shane – LP
Early bird or night owl?
Dustin – Definitely Early Bird!
Jamie – Both!
Jay – Night Owl. Party all night!
Shane – Night Owl… Thanks Art School!
Road or studio?
Dustin – Both actually. But if I were to choose 1 it would be the studio, love the environment and atmosphere.
Jamie – Studio
Jay – Road! That's where all the fun is!
Shane – Studio
Where can we follow you?
Our Website.
Instagram.
Facebook.
Any shows or albums coming up?