Alec Fraser is a chef in Calgary and one half of the group known as Back of House. In each episode of their monthly podcast called Staff Meal, the group aims to highlight the food and music culture of a specific country. Over the course of the month, they decide on a dish that best represents the signature culinary style of that country and post all the recipes online so you can follow along at home. In addition, they assemble a one hour compilation of music using songs and artists originating from the same country. All the music and recipes can be found online at www.backofhousemusic.com. Alec wanted to share his hummus recipe with our readers so they can get a sample of one of the creations they make on the show. Be sure to try it out and listen to the podcast for more great creations.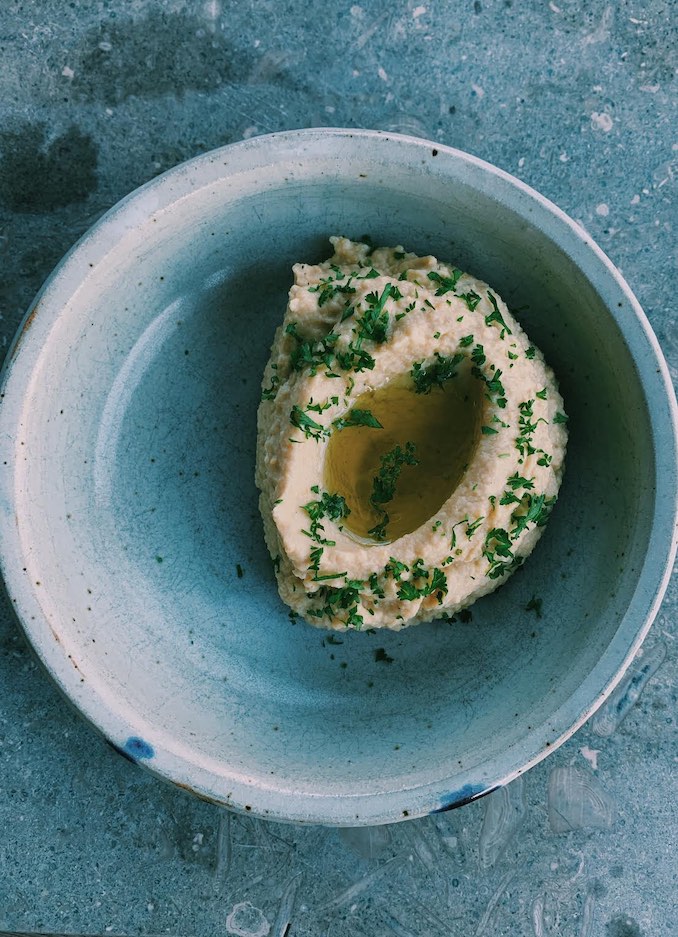 Hummus Recipe with Olive Oil and Herbs
Ingredients
-1 Cup Dried Chickpeas
-4 Cloves Garlic
-1/2 Cup Tahini
-2 Tbsp Whole Cumin
-1/4 Cup Fresh Lemon Juice
-2 Tbsp Olive Oil
-Salt to Taste
Directions
1. Soak your chickpeas overnight in cold water, be sure to use more water than you think for this step.
2. Strain your chickpeas and place them in a pot with fresh water and a pinch of baking soda, Bring the pot to a boil and let simmer until the chickpeas are tender.
3. Meanwhile set your oven to 350F.
4. Wrap your garlic cloves in tinfoil with a few drops of olive oil and a pinch of salt.
5. Cook the garlic until it's browned and tender, reserve.
6. In a separate pot mix your tahini, cumin and olive oil. You want to warm and infuse this mixture for about 30 min before straining out the cumin seeds with a mesh sieve.
7. Once all of this is complete you are ready to blend, a food processor is ideal for this step.
8. Strain your chickpeas out and place them in the food processor (you may need to do this in a few batches).
9. Mix the lemon juice, garlic, salt and tahini mixture and blend until smooth.
10. Chill mixture.
11. To serve add a drizzle of olive oil and a sprinkling of chopped parsley.