Music is more diverse than it has ever been. Rolling Stone highlights how more independent artists are making music today than ever before, as everything from production and distribution can be done from the comforts of one's home. This has given artists of different styles and genres a chance to broadcast their specific brand of music to a wider audience, which has in turn improved the music scene as a whole.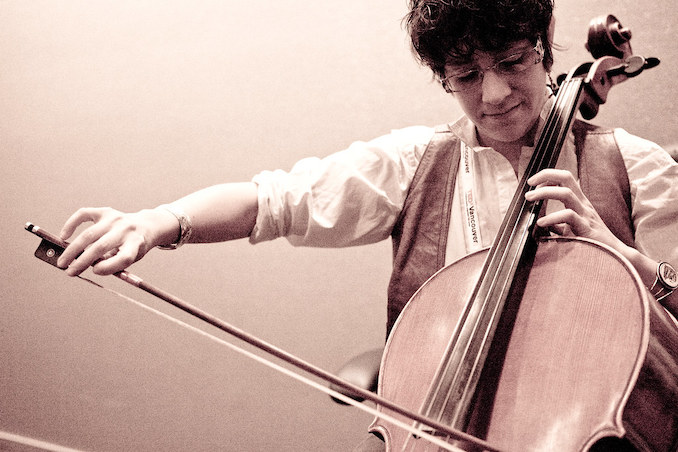 However, one downside to this is that people may find that the music scene has become a little saturated. And while this is the case, sometimes an artist comes along that just stands out from the rest because of their unique approach to music and music-making. To say that the half-Cree half-Mennonite electronic cellist Cris Derksen is one of these artists is a gross understatement. Read on if you want to know more about her and what makes her music so special.
What You Need To Know
Derksen hails from the North Tall Cree reserve in Northern Alberta and has been trained to play classical music since she was a kid. She continued on this path by pursuing further studies in the field of music, eventually earning a Bachelor of Music in Cello Performance at the University of British Columbia. While her repertoire when it comes to albums is quite limited, she makes up for the lack of quantity with the quality of the releases.
One of her most notable releases would have to be 2015's Orchestral Powwow Project. This album was released under the independent label Tribal Spirit Powwow. It combines traditional music elements with classical orchestral sensibilities. It's this same approach with the cello that has earned Derksen a slew of awards throughout her career. She won the Aboriginal Peoples Television Network rising star award back in 2009, Album of the Year at the Canadian Aboriginal Music Award back in 2011, and was nominated for two Juno Awards back in 2016. And considering that the Juno Awards mostly deals with artists that have had mainstream success in pop music, being nominated while playing music that's outside of the mainstream consciousness speaks volumes of Derksen's talent.
Distinct Sound
Derksen's music is often described as classical traditional fusion, due to her heavy use of indigenous elements. But how exactly does Derksen achieve her distinct sound? To help bridge the gap between the two vastly different types of music, Derksen has had to make full use of her experience as a professional musician as well as draw from her technical knowledge of instruments and gear. Derksen's collection of tools that she often employs in her pieces includes all eight simultaneous effects of the Boss ME-80 multi-effects pedal, particularly its phrase loop function which allows her to build (and break) backup sounds with and for her cello. This allows Derksen to become her entire backing band, which was a technique she used in her Sofar Sounds performance back in 2016. However, she also employs the use of a Boss RC-20XL Loop Station. This allows her to stack 16 minutes worth of loops which adds more layers into her already intricate songs.
Her heavy use of modern techniques is a conscious choice to help make classical music more accessible to the everyday person. This seamless blending of styles and techniques was crafted to help bring her unique brand of music to a wider audience. And considering the amount of success she's gotten so far, something tells us she's on the right track.
If you're looking to read up on more musicians, you might want to check out our music column!