Calgary is the beating heart of Alberta. Characterized by foothills and high plains, this well-known Canadian city has some significant and variegated achievements under its belt.
Its economy centres around the petroleum industry. Just before and after the turn of the millennium, rising oil prices led to a growth explosion in Calgary, and the Mercer Quality of Living Survey identified it as the cleanest city in the world in 2007. 
This city also sports some significant historic events. The Great Calgary Fire of 1886 went down as a conflagration of note in the history books. Calgary was also the first Canadian location to host the Winter Olympic Games in 1988. 
However, Calgary has brought forth more than just oil and historical milestones. It's the birthplace of quite a few famous faces. This article takes a closer look at some unexpected well-known people who have their roots in Calgary.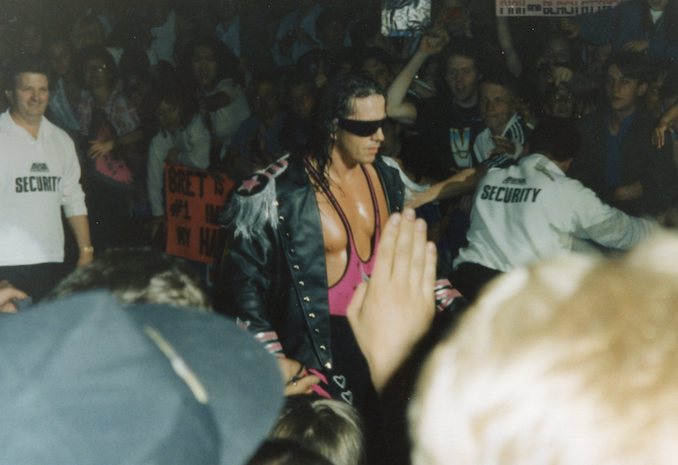 Bret Hart
Smackdown anyone? Bret Hart – better known as Bret "The Hitman" Hart – is a wrestling personality that requires no introduction. During an illustrious 40-year career, this sportsman and entertainer held 32 titles and became an unmissable fixture on the WWE (World Wrestling Entertainment) scene.
With his roots in Calgary, Hart epitomizes the culture of the city. Born into a family of wrestlers, he entered the world of wrestling with his father's Stampede Wrestling promotions. 
The Hart family is basically synonymous with everything that's Calgary. Bret's father, Stu Hart, received the Order of Canada for a lifetime of dedication to charities and the community. Bret Hart spent two years travelling the world as a wrestling champion to better the lives of sick and terminally ill children.
He means so much to Calgary that the city's hockey team took on the name Calgary Hitmen. Sadly, the beloved figure suffered a blow to the head during a pay-per-view match had suffered a stroke, ending his career.
Cory Monteith
Homegrown in Calgary, Cory Monteith was a singer, actor, and musician that made his mark on the hearts of viewers as Finn Hudson in the endearing television drama Glee. He also appeared on the big screen in the film Monte Carlo, in which he co-starred with Selena Gomez and Leighton Meester.
Born in 1982, Monteith came from a broken home. His parents divorced when he was seven years old. Since his teens, the talented star struggled with drug and alcohol problems. He tragically passed away in 2013 following a heroin and drug overdose. Despite his tragic end, Monteith's legacy lives on in the hearts of Calgarians.
His untimely death serves as a stark warning of the dangers of addiction. Addiction – be it drugs, alcohol  or gambling addiction can be deadly – but always remember that there is help out there if you need it.
Rihannon Fish
People are often surprised to find out that this actress originates from Calgary. When she was four, her parents moved to Melbourne, Australia, where she was introduced to audiences as Lisa Jeffries on the soap opera Neighbours.
Fish affirmed her talents as an actress when she became a teenage star on Disney's As The Bell Rings, in which she played the role of Rocky. To date, she has starred in several television series and films. Fish also competed on Dancing With The Stars. 
James Gosling
This name needs no introduction in the computer and information technology arenas. Many do not know this, but James Gosling is one of Calgary's superstars. Also known as Dr. Java, Gosling is the father of the Java programming language.
He is a near-god to those in the technological industry, and without him, our beloved internet programmes wouldn't function. Born in 1955, Gosling graduated from the University of Calgary with a degree in computer science.
This software developer took the world by storm with JavaScript. In honour of his contributions to Canada and the world at large, he was made an Officer of the Order of Canada in 2007.
Tate McRae
Tate McRae is yet another talent that came from Calgarian soil. Born on 1 July 2003, this young star splashed onto the scene when she was only 13 years old. Her fame came in the wake of making it to the finals on the popular television show So You Think You Can Dance?
By the time she was 17, McRae had written her own music and made it big with her song "One Day" in 2017 – all before finishing high school. Soon after, she graduated from Western Canada High School.
To this day, McRae lives in Calgary. She has a huge following on Instagram and YouTube, and countless people stream her music on Spotify.
Mark Rypien
Bret Hart is not the only sports superstar to come out of Calgary. Mark Rypien was a renowned quarterback and prominent feature in the NFL arena.
Although this talented sports persona carved his fame in Washington, he was born in Calgary on 2 October 1962. His parents moved to the United States when he was three years old.
Rypien is an avid sportsman with a great love for football. He rose to fame while playing for the Washington Redskins and earned Super Bowl MVP recognition. This quarterback sensation also played for the Atlanta Falcons, Seattle Seahawks, and Rochester Raiders during this celebrated career.
Ted Cruz
Rafael Edward Cruz, better known as Ted Cruz, is a prominent political player in the United States. This Texas senator was born and lived in Calgary up to the age of three. His parents moved to Texas for business reasons.
Before becoming a Texas state senator in 2013, Cruz acted as a policy advisor in the White House under the Bush administration. Qualified as an attorney, Cruz graduated from both Princeton and Harvard.
This senator comes from humble beginnings. His father fled Cuba with only $100 and washed dishes for 50 cents an hour while learning English. His mother, with her degree in mathematics, tackled a man's world and was one of the few women working as a computer programmer at the dawn of the computer age.